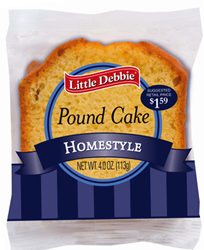 These new pound cake slices were designed with convenience stores in mind
Collegedale, TN (PRWEB) December 18, 2014
McKee Foods, bakers of the Little Debbie® brand, announces the debut of Little Debbie Single-Serve Pound Cake Slices to convenience store shelves. The pound cake slices will be offered in three flavors: Banana Nut, Homestyle, and Classic Lemon.
"These new pound cake slices were designed with convenience stores in mind," stated Chuck Clevenger, Little Debbie® Snacks product manager. "Customers will appreciate the value Little Debbie pound cake slices offer from a brand they know and trust. Each single-serve, pre-cut pound cake slice is portioned and individually packaged to ensure freshness and rich flavor for on-the-go snacking."
Little Debbie is the leading baked sweet goods brand in convenience stores. For more information on the Little Debbie Single-Serve Pound Cake, please visit LittleDebbie.com.
The Little Debbie Brand
McKee Foods' Little Debbie brand is America's No. 1 selling snack cake and is increasing its presence in the breakfast pastry and cookie categories. More than 138 billion Little Debbie® Snacks have been sold since 1960 in the United States, Canada, Mexico, Puerto Rico and on U.S. military bases worldwide.
Every week, Little Debbie® Snacks are baked fresh and delivered from our bakeries to your communities — that's why they're so fresh tasting. Local independent distributors, who are members of your communities, ensure that the freshest products are available in your stores.
The person who inspired the Little Debbie image often featured on product packages is the granddaughter of O.D. and Ruth McKee, the founders of McKee Foods, a family bakery. That little girl, now Debbie McKee-Fowler, is an executive vice president with McKee Foods and serves on its board of directors. Visit LittleDebbie.com for more information. You can also find us on Facebook and Twitter.
McKee Foods
McKee Foods, a family bakery with annual sales of about $1.4 billion, is a privately-held company based in Collegedale, Tenn. The McKee Foods story began during the height of the Great Depression when founder O.D. McKee began selling 5-cent snack cakes from the back of his car. Soon after, he and his wife, Ruth, bought a small, failing bakery, using the family car as collateral. Today, the company employs more than 5,000 people in Collegedale, Tenn.; Gentry, Ark.; Stuarts Draft, Va.; and Kingman, Ariz. It creates and produces Little Debbie® Snacks, Sunbelt Bakery® snacks & cereals, Drake's® Cakes, Heartland® and Fieldstone™ Bakery food products. Visit McKeeFoods.com for more information.