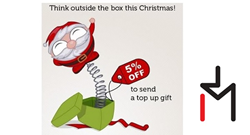 Very easy and handy service to use. I used this website to add minutes to my parents cell phones in Costa Rica. It was very easy to use and the time was added almost instantly." (Darcy Trett, United States)
Atlanta, Georgia (PRWEB) December 20, 2014
For all those looking for an easy way to send Christmas gifts abroad in less than 1 minute and save both time and money, MobileRecharge.com launches a 5% off campaign for all international mobile recharges between December 18 - 21. The discount applies once the coupon code XMASGIFT is entered in the coupon box at the checkout, when making the online payment.
The promotion goes under the motto "Think Outside the Box" and addresses expats interested to top up mobiles online, no matter the distance, as well as keep costs low. "Thinking outside the box" stands for being open minded and trying a new kind of Christmas gifts: both practical or supportive and easy to order online.
Strong points of this promotion:

it saves time and gas; there is no need to spend time looking for a gift or getting trapped in the busy shopping traffic
it saves money: 5% discount applies for any top up amount
it takes less than 1 minute to send
there's no need to wrap the gift
mobile credit gets to the destination instantly
Discount applies for those who have a free online account on MobileRecharge.com. That's the only condition. The rest comes easily. The ordering form is simple and intuitive and thus easy to follow. Tested! One minute only to place the order.
Thousands of millions customers trust MobileRecharge.com for offering:

Best deal on the market due to the high top up value (order value & amount ratio)
The possibility to recharge mobiles in different countries and different operators from one account only
Secure payments via PayPal, or using any major credit/debit card ("Verified & Secured label)
Instant mobile load
MobileRecharge app for top ups on the go
Easy and fast online top up; purchase time: about 1 minute
No hidden fees; all costs are displayed in the checkout
24/7 Support by email, phone and in the Help Center (Search box), in both English and Spanish
Friendly and efficient customer care team
Clear and honest website information
Free account that never expires
Website accessible in English, Spanish, French, Italian, German
Recharge history and other transaction details in the online account
Easy navigation and purchase from PC, tablet and mobile
100% service fairness and correct privacy policy as certified by BBB and TRUSTe
Promotions are a daily routine on MobileRecharge.com. To get instant news feed one needs to subscribe to email alerts by pressing "Get offers" red button in the footer of the website, or follow MobileRecharge.com on:

Rates are available in multiple currencies (USD, AUD, CAD, GBP, EUR), but customers can pay with any major credit/debit card or PayPal, no matter the currency selected. Cards that are accepted: Visa, MasterCard, American Express, Discover. Also, MobileRecharge.com guarantees 100% transaction security and satisfaction.
Making top ups to any prepaid number worldwide with MobileRecharge.com has been established as a way for expats to help their family and friends at home. It is labeled by many fans of online international top ups as one of the best credit transfers on the market.
On review websites like TrustPilot.com, customers describe top ups with MobileRecharge.com as"reliable," "easy" and "handy," "efficient" and "fast" or "instant."
"Works perfectly. I have used the service in my own country and I have to say this service, while internationally based, has never let me down once. I may cost me a few cents more, but at the end of the day, I have never had a problem. Even when recharging someone's phone who happens to be overseas at the time. Keep up the good work people." (Tekno Junkies, Trinidad and Tobago)
"Very easy and handy service to use. I used this website to add minutes to my parents cell phones in Costa Rica. It was very easy to use and the time was added almost instantly." (Darcy Trett, United States)
About MobileRecharge.com
MobileRecharge.com is a website dedicated to supporting communication through affordable international top ups. MobileRecharge.com is a brand of KeepCalling, a company registered in 2002 in the USA offering varied services for expats worldwide. From the get-go, MobileRecharge.com was established as a service focused on great recharge value and best rates for international calls and SMS, helping ethnic groups save money and benefit from high quality services.
KeepCalling, the company behind the service, was listed as no.18 among the fastest growing telecom companies in the USA in 2014, with an increase of 506% from $6.7 million in 2010 to $41.0 million in 2013. KeepCalling provides numerous telecom solutions: mobile recharges (direct top ups, airtime credit or mobile load), Voice Credit for calls and SMS, Virtual Numbers (local numbers), monthly plans for different destinations, through various ethnic websites. Presently, KeepCalling serves hundreds of thousands of consumers and businesses worldwide, with a high focus on customer satisfaction.