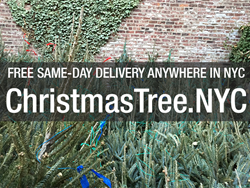 Get free same-day delivery anywhere in New York City: Manhattan, Brooklyn, Queens, Staten Island and The Bronx.
Manhatan, New York City, New York (PRWEB) December 20, 2014
Christmas is only a week away and you still haven't gotten your tree? No problem. A lush, premium Fraser Fir delivered today is only a click away for residents of Manhattan, Bronx, Brooklyn, Queens and Staten Island.
Christmas Tree NYC (https://christmastree.nyc) is the perfect solution for the last-minute Christmas tree shopper. The Brooklyn-based company offers fresh Canadian-grown trees at prices up to 50% below competitors' and customers can schedule free same-day delivery at their convenience from 9 a.m. to 9 p.m. until December 23rd (customers must be home to take delivery). Prices include delivery and range from $45 for their shortest, three-foot tree to $126 for a nine-footer. For added convenience, they make a fresh cut at the base to ensure that the tree drinks plenty of water and stays fresh through the holidays, and will even help set it up.
Buying a tree online from Christmas Tree NYC is a great way to avoid the stress of having to go out and buy one in person, says owner Dan Sevigny.
"Christmas Tree NYC take the hassle out of buying a Christmas tree in New York City. The holiday season can be stressful. People want ease, convenience and simplicity – that's what we give them," says Dan. The website also offers two sizes of tree stands, and this year offers a lush, fresh evergreen centerpiece handcrafted in Maine, for $55.
New Yorkers have always had far fewer options for purchasing a live tree companied to their friends and family in the suburbs, where fresh-cut trees can be found in garden centers, nurseries, corner gas stations and high school parking lots. Buying and transporting a live Christmas tree into a New York City apartment in areas like the Lower East Side of Manhattan (where apartment space is often limited) is an expensive, stressful holiday errand that leads many to dispense altogether with the idea of having the lush greenery and fresh, sweet, piney aroma fill their homes during the holidays.
For those with money to burn, there are plenty of sellers that will deliver and set up a top-of-the-line evergreen; for most money-conscious city-dwellers without cars, the options are to drag home whatever's left from the sidewalk stand or attempt to stuff it into the back seat of a cab.
"Not with us," says Dan. "We operate online and from our locations just outside Manhattan (Prospect Heights, Brooklyn), and the money we save on rent and staff we pass on to our customers. And delivery is free because it should be. They already paid for the tree, they shouldn't have to pay twice."
Operating out of their Lower East Side office located at 202 Rivington St. New York, NY 10002, Dan and Morgan are able to get deliveries out to Manhattan residents within a few hours of their orders coming through.
Dan and his sister Morgan started Christmas Tree NYC two years ago after seeing what sidewalk tree vendors were selling in their Brooklyn neighborhood and deciding they could do the same thing, only better. And cheaper. The siblings hail from Mount Desert Island, Maine, and grew up exploring the dense forests of Acadia National Park. Their lifelong exposure to and interest in the outdoors and nature has honed their discriminating tastes in Christmas trees and led them to find the best Quebec growers offering the best prices.
The premium Fraser Firs, often referred to as the Cadillac of Christmas trees, have the best needle and moisture retention of all evergreens. Properly watered, the tree should maintain its unique frosty blue undercoat and evergreen overcoat throughout the holiday season. The full branches provide plenty of space to display all your favorite ornaments and they are strong enough to handle heavy ornaments. Additionally, Fraser Firs are known for growing straight trunks which allow for easy placement in stands.
Christmas Tree NYC sells and delivers premium Fraser Fir trees, stands and centerpieces to customers in Manhattan and the boroughs at prices up to 50% below competitors, with delivery included for free. The site accepts major credit cards and PayPal. Orders may be placed at https://christmastree.nyc until December 23rd. Deliveries are scheduled from 9 a.m. to 9 p.m. daily (with time slots every three hours). Customers must be home to take delivery.