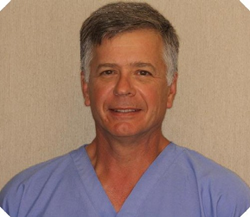 Robstown, TX (PRWEB) December 18, 2014
Dr. Tilman Richards recently expanded his patient base, and now accepts new patients from Robstown, TX for periodontal disease treatment with the LANAP® protocol. Dr. Richards is among the elite practitioners in the dental world who use laser gum surgery to fight periodontal disease. He has received special training and certification to administer the LANAP® protocol, which uses a computer guided laser to eradicate the infection that lives in the gums of three out of every four Americans.
The signs of gum disease may be easy to ignore at first. Many people don't notice discoloration or slight bleeding in the gums, or even the persistent mouth odor that can be a telltale sign of infection residing in the gums. As the condition progresses, however, pockets develop below the gum line that allow the germs to thrive and continue to wreak havoc in the mouth. Gum disease can progress rapidly damaging the tissue and bone that support the teeth.
Many people who have considered treatment for periodontal disease have been put off by the invasive nature of most traditional types of gum surgery. In the past, it was necessary to cut away damaged and infected tissue with a scalpel and stitch the healthy tissue back together. The trauma of the traditional gum surgery procedure often involved a lengthy recovery time and need for strong pain medication. With the laser gum surgery called LANAP® that Dr. Richards practices, however, there is no cutting or stitching of the tissue.
Patients report slight, if any, bleeding and only mild discomfort with the minimally invasive LANAP® protocol. Recovery time is rapid, with many people back at regular life activities within a day or so of the procedure.
Potential patients looking to learn more about the dangers of untreated gum disease and how to fight the disease with laser gum surgery can visit Dr. Richards website at http://www.tilmanrichardsdds.com/. Robstown, TX residents with signs of gum disease are encouraged to call Dr. Richards office at 361-991-8743 to set an appointment.
About the Doctor
Tilman Richards, DDS is a general dentist who has provided patients personalized dental care in Corpus Christi, TX since 1984. Dr. Richards graduated with honors from Sam Houston State University with a Bachelor of Science in biology, and he attended Baylor Dental School in Dallas where he received his degree as a doctor of dental surgery. He is also a member of the American Dental Association, Texas Dental Association and Nueces Valley District Dental Society. Dr. Richards is part of one percent of dental professionals providing the LANAP® FDA cleared laser procedure for gum disease treatment. To learn more about Tilman Richards, DDS and his dental services visit his website at http://www.corpus-christi-dentist.com and call (361) 238-2373.