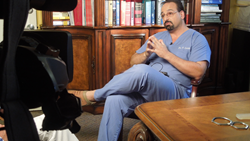 Men do not know this but many women do not like men who are uncircumcised, Dr. Loria said
Miami, FL & Garden City, NY (PRWEB) December 19, 2014
Dr. Victor Loria D.O., a Miami, Florida and Garden City, New York-based cosmetic surgeon, has pioneered a minimally invasive medical procedure that successfully increases the flaccid length of the flaccid penile shaft, in addition to enlarging the penile shaft, glans (head of penis), and scrotum, provides circumcision treatments and other cosmetic procedures as well.
Many men prefer to be uncircumcised due to religious beliefs, because that is how they were born, or simply because they feel comfortable being uncircumcised….but others prefer to remove the foreskin due to chronic irritation, cleanliness reasons, and possibly less sex appeal?
"I am continuously researching new minimally invasive techniques to accomplish great results in the male enhancement field," said Dr. Loria, a pioneer in the field of penis enlargement surgery.
The doctor has performed thousands of cosmetic procedures over the past 20 years. He has been successfully treating men with numerous male enhancement concerns including circumcision and enlargement issues.
"There are many medical and psychological reasons as to why men want to be circumcised and remove the foreskin of the penis," said Dr. Loria.
About Dr. Loria: Dr. Victor Loria, D.O., is the medical director of the Miami-New York based Male Enhancement & Penis Enlargement Medicine & Surgery Center (call 1-877–DR- LORIA or 877-375-6742).
Media Requests or Interviews: Contact Dr. Loria 786-409-5911
Source: Dr. Victor Loria