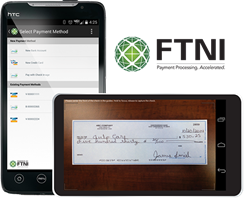 Omaha, Neb. (PRWEB) December 19, 2014
Financial Transmission Network Inc. (FTNI), a leading provider of payment processing solutions, announced today the availability of new ETran Mobile iOS software development kits (SDKs) enabling companies to embed mobile invoice presentment and payment processing functionality within iOS mobile applications.
Now available for both Android and iOS with the release of the new iOS SDKs, ETran Mobile supports companies in unlocking the power of mobile payments within their current receivables processes to work toward the strategic goal of processing and posting all payments from a single platform. Since ETran Mobile is built upon, and seamlessly integrated with the cloud-based ETran platform, businesses benefit from direct access to easily configure integrations with existing banks and processors, popular accounting software packages and current business processes. ETran also accelerates the deposit/payment process through the automation of time-consuming, manual processes such as the creation of posting files.
The ETran Mobile iOS SDKs enable companies to embed mobile invoice presentment and payment functionality into existing iOS mobile applications to accept and securely processes Mobile Remote Deposit Capture (mRDC), ACH, credit or debit card payments via the PCI compliant ETran platform. This helps companies get paid faster and significantly improve transactional security by leveraging the end-to-end encryption of payment data from the mobile device to the ETran cloud servers for secure processing and posting. All payments accepted via the embedded ETran Mobile payment component are available for review/approval within the ETran desktop application in real-time.
"We're excited to bring the power of ETran Mobile to iOS," said Kurt Matis, president and CEO, FTNI. "The new ETran Mobile SDKs for iOS continues our vision to innovate receivables processing and provide businesses with a single platform to streamline their payment processing and receivables management. Enterprises continue to adopt mobile technology within traditional business processes at an accelerated pace. We believe that the use of mobile technology within accounts receivable processes can be one of the few areas that can deliver the trifecta of operational, financial and customer experience benefits to the enterprise."
Chris Thompson, COO at FTNI, adds "The release of ETran Mobile SDKs for iOS was driven by strong customer demand to embed mobile invoice presentment and payment capabilities within their own iOS mobile apps. We'll continue to develop both fully-hosted versions of ETran Mobile as well as SDK accessibility across multiple mobile operating systems to provide businesses with world-class mobile payment capabilities that accelerate their receivables processes."
About FTNI
Financial Transmission Network, Inc. (FTNI) accelerates the way businesses accept and manage payments, no matter how they are received. Processing millions of transactions annually, FTNI's award-winning integrated receivables processing solution, ETran, is a flexible, cloud-based, single-source payments platform and data warehouse. ETran simplifies receivables processing and management by providing a real-time, enterprise view of all payments activity, plus creates significant savings by streamlining operations and automating time-consuming, manual processes. Founded in 2007, FTNI serves more than 14,000 corporate users in a variety of industries, including the American Red Cross, DirectBuy, Farm Bureau, Five Star Senior Living, Golden Living, Mutual of Omaha, Penn Mutual, Physicians Mutual Insurance, Proxibid, RealPage, Shamrock Foods, The McClatchy Company and many more. For more information, visit http://www.ftni.com.