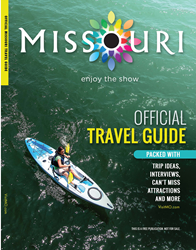 Jefferson City, MO (PRWEB) December 19, 2014
It's time to start planning your next Missouri vacation.
The 2015 Official Missouri Travel Guide is now available at a variety of locations, including Missouri's nine Official Welcome Centers and eight Affiliate Welcome Centers, plus chambers of commerce and convention and visitors bureaus statewide.
Travel guides can be ordered online at VisitMO.com and by calling the Missouri Division of Tourism's fulfillment center at 800-519-4800.
The 152-page guide has feature stories and photos highlighting Missouri's travel destinations, along with easy-to-navigate content designed to showcase the variety of tourism attractions and destinations available in the Show-Me State.
"Whether used for pre-trip planning, or as an in-trip guidebook, Missouri's travel guide is a valuable part of the vacation experience," says Missouri Division of Tourism Director Katie Steele Danner. "VisitMO.com is a great travel tool and our mobile website makes it easy to look up information when you're on the go. The travel guide is a worthy print companion to those digital outlets, and is a great resource to help travelers find new and exciting things to do in Missouri."
To highlight Missouri's vast outdoor attributes and activities, the 2015 Official Missouri Travel Guide cover features a kayaker enjoying an outing on Stockton Lake at Stockton State Park.
Feature stories include information on topics ranging from arts, culture and Route 66, to family fun, sports and gaming, nightlife and entertainment, and Missouri's diverse outdoor assets. Other features take a close look at the Show-Me State's five vacation regions, while details about all 87 official Missouri State Parks and State Historic Sites are found throughout the guide.
Start planning your next Missouri getaway today; call 800-519-4800 or log on to VisitMO.com to order your 2015 Official Missouri Travel Guide.