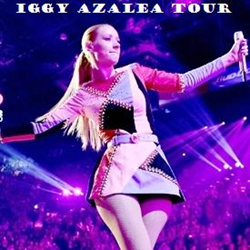 Iggy Azalea tickets for her upcoming 2015 The Great Escape Tour go on sale for the public to buy today.
Brooklyn, NY (PRWEB) December 19, 2014
Iggy Azalea recently announced her upcoming The Great Escape Concert Tour for 2015. The tour kicks off in Fresno, CA on April 14, 2015. Iggy Azalea is joined by Nick Jonas, Tinashe and DJ Wizz Kidd. The Great Escape Tour visits more than twenty cities in 2015 including Sacramento, Oakland, Glendale, AZ, Los Angeles, San Diego, Las Vegas, Denver, Minneapolis, Rosemont, Auburn Hills near Detroit, Boston, Brooklyn, Newark, Philadelphia, Washington, DC, Orlando, Dallas, Houston and Austin, TX.
Born in Australia and given the name Amethyst Amelia Kelly, fans of this singer/model know her as Iggy Azalea. She came to the United States as a teenager looking to break into the hip hop music scene. People took notice when she performed music videos for a couple of contentious songs, "Pu$$y" and "Two Times" that went viral on You-Tube. Her singles include songs like "Work", Bounce", "Change Your Life", "Fancy", "Black Widow" and "Beg For It". Her album is entitled "The New Classic" It is rumored that a new album in support of her upcoming tour is imminent.
While on tour in 2015 Iggy Azalea makes a stop in Brooklyn, NY at the Barclays Center on May 7, Orlando May 15, Miami May 16, Atlanta May 19, Dallas May 22 and Houston May 23. Music fans will find the Amway Center in Orlando, FL and the American Airlines Arena in Miami host other popular acts like Billy Joel, Fleetwood Mac, Taylor Swift and Ariana Grande in addition to their Iggy Azalea concert. Fleetwood Mac and Maroon 5 perform at the Philips Arena in Atlanta as well as The American Airlines Center in Dallas, and The Toyota Center in Houston, TX. Also appearing at Barclay's Center in Brooklyn fans may buy tickets for Katt Williams, Linkin Park, Chris Brown, Charlie Wilson, Neil Diamond, The Who, Barry Manilow and Elton John on New Year's Eve. Sports fans in Brooklyn can catch Nets NBA home games and next year the NHL Islanders. While in the New York City area Financial Firebird Corporation's travel group can arrange a Broadway Hotel Package including dinner and concert or theater tickets along with discount accommodations.
Many of these Iggy Azalea tickets may be purchased with an E-Ticket option, meaning a paper ticket may be printed right from the buyer's computer. With the 125% ticket guarantee of authenticity, guaranteed admission to the Fleetwood Mac concert and BBB accreditation, fans need not be concerned about an E-ticket.
Buy seats for the Iggy Azalea concerts by phone at 855 805 5266 for professional personal assistance.
About Financial Firebird and Tickets Cheapest:
The site to get cheap concert tickets and its sister sites, including the site to purchase show tickets like Aladdin on Broadway, or Broadway tours, are affiliated with the Financial Firebird Corporation Travel Group. Financial Firebird Corporation, established in 2000 and a proud BBB member, provides unbiased consumer information, software and marketing services. These sites for consumers to buy tickets online operate in the resale market and maintain no relationship with the venues or performers. The resale ticket market allows consumers access to popular events once the box office has sold out or to buy premium seats when the venue no longer offers any inventory. Within the group of these secondary market ticket services the Financial Firebird owned ticket sites offer lower prices than competitors. Find the sites at FleetwoodMacConcertDates.com and TicketsCheapest.com.