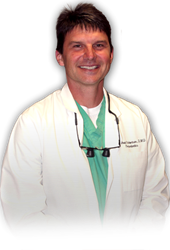 Tupelo, MS (PRWEB) December 19, 2014
People suffering from receding gums in Tupelo, MS, can now protect their oral health by visiting Dr. Michael Robertson for a gum graft. Gum grafting can mitigate the risk of many oral health problems associated with gum recession, from infection to root damage. Grafting also offers cosmetic benefits by restoring a more natural, aesthetically balanced smile.
Dr. Robertson offers three types of gum grafts. Pedicle grafts involve the reallocation of gum tissue situated near the affected tooth, while free gingival and connective tissue grafts involve harvesting gum tissue from the roof of the mouth. Dr. Robertson also uses AlloDerm® or donated tissue, to reduce the need for tissue harvesting. Dr. Robertson is often able to correct receding gums in one appointment, but for cases with severe or widespread recession, multiple procedures may be necessary. After the gum grafting procedure is complete, patients must observe dietary restrictions and avoid brushing or flossing their teeth until the gums have healed. Once healing is complete, patients notice both aesthetic and health-related benefits.
Dr. Robertson often recommends gum grafts to people in Tupelo, MS, who are suffering from complications associated with receding gums. These issues include cavities, exposure of the roots, inflammation, sensitivity and tooth instability. In extreme cases, gum recession can put patients at risk for gum disease or other infections, followed by tissue and bone density loss. A gum graft can mitigate these risks by establishing a protective barrier around the root of the tooth. Patients with tooth sensitivity, or those concerned with the appearance of their smiles, may also benefit from gum grafting to treat their receding gums.
Gum recession occurs gradually, so Dr. Robertson encourages patients in Tupelo, MS, to watch for indicators of receding gums. Changes in tooth length and notched or dark areas at the gum line are common visual signs. Many patients also notice increased tooth sensitivity, since recession often exposes the root of the tooth. Patients who notice these symptoms are advised to call Dr. Robertson's office and schedule a consultation to determine whether gum grafting is the right treatment for their needs.
About the Doctor
Dr. J. Michael Robertson is a periodontist offering personalized dental care for patients in Tupelo, MS. Dr. Robertson received his B.A. from the University of Mississippi as a chancellor and Dean's List scholar, and his D.M.D. from the University of Mississippi School of Dentistry. He earned his certificate in periodontics from the University of Alabama. Dr. Robertson is part of one percent of dental professionals providing the LANAP® FDA cleared laser procedure for gum disease and periodontal treatment. To learn more about Dr. Robertson and his dental services visit his website at http://www.northmsperio.com and call (662) 269-1317.