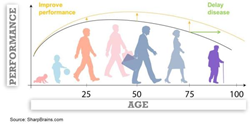 "Hope­fully, all of us will one day ben­e­fit from a brain fitness field as proven and valu­able as the phys­i­cal fit­ness field is today," says Alvaro Fernandez, co-author of the AARP best book The SharpBrains Guide to Brain Fitness
Washington, DC (PRWEB) December 19, 2014
83% of sur­veyed early-adopters agree that "adults of all ages should take charge of their own brain fit­ness, with­out wait­ing for their doc­tors to tell them to" and say that they "would per­son­ally take a brief assess­ment every year as an annual men­tal check-up." Not a big sur­prise, then, to wit­ness the sig­nif­i­cant growth of web-based, mobile and biometrics-based solu­tions to assess and enhance brain func­tion.
Of note, the key ques­tion many peo­ple are ask­ing is not "Do brain health assess­ments and brain train­ing pro­grams have per­fect sci­ence behind them" but "Do they have bet­ter sci­ence than most com­mon alternatives–solving cross­word puz­zle a mil­lion and one, tak­ing "brain sup­ple­ments," doing noth­ing at all until depres­sion or demen­tia hits home?" And the answer to this ques­tion is a resound­ing yes.
Here are some of the most impor­tant brain fit­ness news in 2014, according to independent market research firm SharpBrains. They hint at the dri­vers fuel­ing growth and shap­ing up the emerg­ing land­scape.

Jan­u­ary: Rosetta Stone com­pletes acqui­si­tion of Fit Brains cre­ator Viv­ity Labs, enter­ing fast-growing brain-training market
March: AARP to fea­ture a new "Stay­ing Sharp" mem­ber­ship dur­ing QVC debut
April: Ground­break­ing online reg­istry at UCSF to drive brain dis­ease research
May: Bay­crest mem­ory experts launch 'ther­mome­ter' for the mind
June: Feed­ing the brain's curios­ity helps delay Alzheimer's, study says
August: Inter­aXon teams up with Reebok & Gaiam to bring biometrics-based med­i­ta­tion to the masses
Sep­tem­ber: The Lifestyle Med­i­cine course at Har­vard Exten­sion School adopts The Sharp­Brains Guide to Brain Fitness
Octo­ber: Thync gets $13 mil­lion to send elec­tric cur­rents to your brain
Octo­ber: Brain-training com­pa­nies get advice from some aca­d­e­mics, crit­i­cism from others
Octo­ber: Anthro­Tronix receives FDA clear­ance for brain health assess­ment tool
Octo­ber: 200+ experts in 16 coun­tries gather around a vir­tual table to dis­cuss and shape brain health innovation
Novem­ber: Fron­tiers in Human Neu­ro­science com­pletes research series on Effects of game and game-like train­ing on neu­rocog­ni­tive plasticity
Decem­ber: Apple names brain train­ing apps "Best of 2014″ in 20+ countries
Decem­ber 17th: 127 sci­en­tists chal­lenge the pur­ported brain train­ing "con­sen­sus" released by the Stan­ford Cen­ter for Longevity
To learn more about these 14 top news, visit SharpBrains.com
About SharpBrains:
SharpBrains is an independent market research firm and think tank tracking health and productivity applications of brain and cognitive science. The company maintains a biannual state-of-the market report series, produces an annual global and virtual professional conference, and maintains a consumer-facing guide, The SharpBrains Guide to Brain Fitness. To learn more, visit http://www.sharpbrains.com.