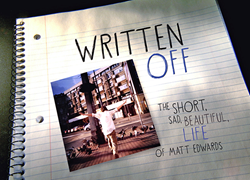 Matt's story -- sadly -- isn't unique. What makes it important to share are the incredibly candid journals he left behind. Like a lot of addicts, his life was a big web of secrets and lies, but he told the truth on paper.
Falls Church, VA (PRWEB) December 19, 2014
The documentary "WRITTEN OFF: The Short, Sad, Beautiful Life of Matt Edwards," currently in production, will challenge the stigma of addiction. The story of Matt Edwards, a Wisconsin opiate addict who chronicled his life in highly personal journals, is a rare journey inside the opiate crisis. Like many, Matt's first high came from legitimately prescribed painkillers, but a ten-year struggle with addiction led him to IV drug use and, eventually, a heroin overdose at age 25 in 2010.
His life was a web of secrets and lies, but he told the truth on paper and his loved ones are using his own words to put the pieces back together. His mother Jane, his best friend Rose and his girlfriend Paula, who has returned to the US from Poland for the first time since before Matt's death, are separating the truth from the lies and the drugs from the man. What they discover are issues at the complex heart of addiction and reveals what it is like to experience it from the inside.
Matt's mother lost a son, but then had to endure the shame. Addiction is seen as a personality flaw, rather than the disease it is. After his death, she began publishing his journals on her blog, http://www.mydeadsonsjournals.com, to fight that stigma.
Falls Church, VA based production company The Biscuit Factory (http://www.biscuitfactory.tv) began production on the film in August of 2014 and is currently running a crowd funding campaign to complete it. (http://kck.st/1uCqqVn)
Opiate Crisis in the US
In the United States, prescriptions for opioids (synthetic opiates) have nearly tripled in the last 25 years and overdose deaths have quadrupled. The U.S. consumes nearly 100% of the world's hydrocodone (Vicodin) and 81% of oxycodone (Percocet). Everyday 2,500 young people in America abuse prescription pain relievers for the first time. Deaths from opioids/opiates exceed those from all other drugs combined.
Opiate addiction is fueled by legitimate prescriptions for addictive pain medications, but addicts routinely turn to heroin as a cheaper, easier to get substitute. Most long-term users have no choice - they need the fix to avoid the wrenching symptoms of withdrawal. They need it to function. Rehab is an option for some but opiates rewire your brain - going off them brings on depression and relapse is common.
Quick Facts:

100 People die from drug overdoses every day in the United States.
Drug Overdose Rates have more than tripled since 1990.
In 2010, 2 million people reported using prescription painkillers nonmedically for the first time within the last year – nearly 5,500 a day.
Death from drug overdose is the leading cause of injury death in the United States.
Story
Matt Edwards was an unlikely drug addict. He grew up in the Northwoods of Wisconsin in a rural town so small that it didn't have a single store. He came from a close family that valued education. Like many, his first taste of opioids was prescribed by a doctor for a botched toe surgery. He later told his mother that they made him feel "touched by God."
Matt knew he was wasting his life. Over the next decade, his life was organized around the lone goal of getting his fix - more often to avoid withdrawal than to get "high" in a recreational sense. He lied constantly and was good at it - smart, creative, persuasive - those lies fed his addiction as much as the actual drugs. In two spiral bound journals, he wrote of his hopes and failures, his constant attempts to quit and chronicled his daily drug use - like the Bridget Jones of addicts.
Addicts' own behavior makes them difficult to love. Matt convinced a doctor to give him a colostomy just to get pain pills, he convinced his girlfriend he had terminal cancer and plotted to rob a pharmacy. He was unpredictable, destructive and impossible to trust. But he was also aware of his crimes and failings and desperate to change. This film will shift the way people think about addiction.
About The Biscuit Factory
The Biscuit Factory is an award-winning television production company producing factual content for National Geographic, The Discovery Channel and Smithsonian Networks. Recent broadcast documentary credits include, Civil War 360, starring Ashley Judd, Trace Adkins and Dennis Haysbert, A Star Spangled Story, Winged Seduction: Birds of Paradise, and 911:Stories in Fragments. Founded by Molly Hermann and Rob Lyall, filmmakers with more than 20 years of experience.
Contact Information:
Molly Hermann (Producer/Director) - molly(at)thebiscuit(dot)tv - (703) 532-5066 Rob Lyall (Producer/DP) – rob(at)thebiscuit(dot)tv - (703) 532-5066
Photos and Press Kit Available Upon Request
For quotes from Molly Hermann, the film's director please see recent blog in The Huffington Post: http://huff.to/1zBeB7u