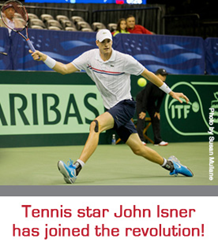 We are looking for brand ambassadors to assist in promoting the RAPIDFORCE shapes by engaging other athletes, exercise enthusiasts and those that desire to live an active lifestyle to use the shapes on a regular basis. -Jenny Smith-Skwierawski
New York, New York (PRWEB) December 19, 2014
RAPIDFORCE, a pioneer in the sports health industry, will focus its efforts on expanding product awareness through a new brand ambassador program for tennis and volleyball players as well as multi-sport athletes who participate in competitions such as CrossFit and Obstacle Course Racing. RAPIDFORCE has developed a superior line of physio hybrid shapes that deliver muscle support and pain relief to athletes at any level of competition from youth leagues to the professional ranks.
John Isner, 18th ranked professional tennis player and current RAPIDFORCE ambassador said, "I am thrilled to be associated with RAPIDFORCE as I've been playing with the U-shape on my left knee for extra support. During matches I need to be aggressive, and the shape gives me the extra confidence I need to know my knee is stable and strong."
The RAPIDFORCE line of physio hybrid shapes features 7 different pre-cut shapes meticulously designed to increase blood flow and reduce swelling to target areas including the back, knees and elbows. According to RAPIDFORCE Head Physical Therapist Kent Carlson, "RAPIDFORCE has not only devised a more versatile and superior product, they've also simplified the application process. No more cutting and no more elaborate designs with layers upon layers of tape. The physio hybrid shapes can be applied quickly and correctly by consumers and professionals alike."
Together with consulting firm CelebExperts, RAPIDFORCE is actively searching for 100+ additional athletes and sports teams who are interested to try the product and join the RAPIDFORCE team. "We are looking for brand ambassadors to assist in promoting the RAPIDFORCE shapes by engaging other athletes, exercise enthusiasts and those that desire to live an active lifestyle to use the shapes on a regular basis," said RAPIDFORCE Branding and Marketing Vice President Jenny Smith-Skwierawski. "We are focused on building a sustainable growth partnership with our ambassadors based on sales success."
RAPIDFORCE welcomes the opportunity to engage with athletes and sports teams at the amateur, college and professional levels to explain the many benefits their products can have during everyday competition and rehabilitation. Athletes and sports teams who are interested in learning more about RAPIDFORCE physio hybrid shapes are encouraged to visit the company website (http://www.rapidforce-phs.com) and schedule a call with the CelebExperts team to discuss the next steps in becoming an official RAPIDFORCE ambassador.
About RAPIDFORCE
RAPIDFORCE physio hybrid shapes are innovative new products dedicated to providing simple solutions for muscle support and pain management. Based on the science of physiology and movement, RAPIDFORCE physio hybrid shapes serve as an external muscular-skeletal layer, providing unprecedented support in a dynamic and unobtrusive way. RAPIDFORCE physio hybrid shapes leverage the underlying muscles, tendons and ligaments as reinforcement to the injured or stressed area, resulting in numerous benefits including muscle support, pain relief, increased blood flow and improved range of motion.
About CelebExperts
CelebExperts was created by industry veteran Evan Morgenstein who has a diverse background in talent representation, brand activation, sponsorship procurement, celebrity acquisition, licensing, and other areas of expertise revolving around the utilization of and achieving the greatest impact from a celebrity. To inquire about a possible team or league sponsorship, athlete endorsements or marketing opportunities with RAPIDFORCE contact consulting(at)celebexperts(dot)com, or to speak directly to a corporate consultant please call (919)459-5426.