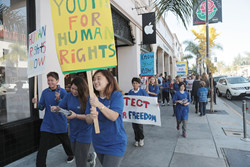 A being is only as valuable as he can serve others.
PASADENA, CALIFORNIA (PRWEB) December 18, 2014
"Know Your Rights." This was the message of the San Gabriel Valley chapter of Youth for Human Rights December 6 as they walked down Colorado Boulevard in Old Pasadena.
It was a lively demonstration, with dozens of youth—from high schoolers to toddlers in their mothers' arms—calling out the slogan: "What do we want? Human rights! When do we want it? Now!"
As they turned the corner onto Raymond Avenue, they became even louder, rushing into the Church of Scientology of Pasadena and right onto the stage of the Chapel where community and religious leaders were gathered for Human Rights Day Forum. The youngsters invited the conference attendees to join them on the stage to sign a petition in support of human rights education.
Youth for Human Rights is the youth component of United for Human Rights, the human rights initiative supported by the Church of Scientology. Human Rights Day is the anniversary of the United Nations adoption of the Universal Declaration of Human Rights (UDHR), the world's premier human rights document.
To make United for Human Rights and the other humanitarian and social betterment initiatives it supports even more broadly available, the Church of Scientology has published a new brochure, Voice for Humanity—Real Help, Real Results.
Inspired by the words of L. Ron Hubbard, Founder of the Scientology religion, that "a being is only as valuable as he can serve others," Scientologists wholeheartedly support these programs. Participation and collaboration in these initiatives is invited and welcomed from all who seek to improve conditions for themselves and others.
For more information, visit the Scientology website at http://www.Scientology.org/how-we-help/voice-for-humanity.