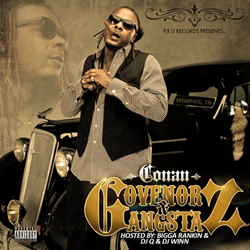 Folks in the industry are fooling everybody
Miami, FL (PRWEB) December 19, 2014
Coast 2 Coast Mixtapes announce the release of the "Governorz & Gangstaz WRNR" mixtape by Conan. The 17 track project is currently available for download on the Coast 2 Coast website. This mixtape is hosted by Bigga Rankin and mixed by DJ Q Memphis, and DJ Winn. There are also some featured performances by Dirty D Nasty, Musical O3, Pacman, Zezzy, J.Wiqked, King James, Twuan G, Code G, Jre Riley, and Snootie Wild.
When Conan let the people in his circle hear the material on his forthcoming mixtape, the Memphis rapper and his crew realized he was discussing the positive and negative of life with equal aplomb. "It's like two different sides to my story," Conan explains. "It's the streets and the different things that I've been through in my life. I try to touch every subject I can on every level."
Given the wide range of topics he raps about, Conan knew that the title of his project needed to represent a higher level of thought, as well as the streets. Governors & Gangstas became a perfect description. "The streets is the Gangsta part," Conan says. "I'm also trying to touch the young folks and let them know that it really ain't about trying to be gangster. It's not all that it seems to be. That's the Governors part, the leader. Folks in the industry are fooling everybody. They have the young brothers doing things that they're not really about because they see everybody else doing it." Follow Conan on Twitter and keep up with his music at @conanmsg.
About Coast 2 Coast Mixtapes
Coast 2 Coast Mixtapes are the most widely distributed mixtapes in the world, with over 100 million downloads/plays generated by over 200 volumes officially hosted by major artists. Coast 2 Coast has a solid reach in the new music industry with a digital magazine, DJ coalition, industry tips blog, yearly convention, and more. Coast 2 Coast Mixtapes represents a unique opportunity for artists of all urban genres, from major to indie. For more information, visit http://www.coast2coastmixtapes.com.