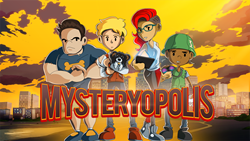 SANTA MONICA, CA (PRWEB) December 22, 2014
"CSI" franchise creator and executive producer Anthony E. Zuiker, in partnership with Fanlala, an innovator in family-friendly entertainment, and Fuhu, Inc., the creator of the award-winning nabi® tablet and the foremost innovator in technology for kids and their families, today announced "Mysteryopolis," a unique animated video series that presents an entirely new category of entertainment for kids; the gamified narrative.
"Mysteryopolis" debuts exclusively on Fuhu's new nabi Pass, a first-of-its kind subscription service available on Fuhu's family of nabi tablets. "Mysteryopolis" is the first original series to be featured on the kid-friendly content subscription service curated just for kids offering unlimited learning, videos, TV shows, apps, games, music and books.
As one of the most trailblazing writers in television today, Zuiker saw a major opportunity to combine Hollywood-style scripted narrative with top-notch interactive gameplay, so that kids don't watch an episode, they "play" the episode. "Mysteryopolis," an original gamified narrative written and executive produced by Zuiker, marks the TV creators' first foray into kids entertainment. The series features Zuiker's signature epic storytelling style and TV quality production value, in addition to a special guest voice from hip-hop artist and actor, Shad Moss, aka Bow Wow ("CSI: Cyber").
"Mysteryopolis," is the story of Jordy, a typical 13-year old turned special agent, who must save his hometown of Mysteryopolis from a major threat. Joining him on the adventure is an unlikely team of heroes that includes a quick-witted tablet, trusty sidekick and furry best friend Kloo, and classmate/crush Blaze. As users watch the mystery unfold, they must play through several fun and challenging activities and games (also conceived by Zuiker) that help the characters advance in their journey and continue the story.
"Ever since the first "CSI," and being a father, I've always wanted to do something around mystery solving for kids. Fast forward to a whole new world of tablets as the screen of choice for kids, and I just knew the timing was right to marry storytelling and gaming and do a mystery series for kids unlike ever before," said Zuiker. "With "Mysteryopolis," to write a Hollywoodesque story, create the characters, and conceptualize the gameplay was truly a dream come true for me. I am grateful for partners like Fanlala and Fuhu to introduce a whole new category of quality entertainment for kids in the gamified narrative."
To bring "Mysteryopolis" to the kids demographic, Zuiker and producing partner Fanlala entered into an exclusive distribution agreement with Fuhu, a powerful distribution player in the kids entertainment space, which already drives millions of streams of programming for the biggest kids content companies.
Jim Mitchell, CEO of Fuhu, added, "We are excited to partner with Anthony and Fanlala to bring Mysteryopolis, an original series, exclusively to nabi Pass. We've created a valuable platform that gives unique opportunities for content creators and major studios to build a network of hard to reach and engaged audience, kids, almost instantly. This partnership underscores the value that Hollywood content producers see in nabi and our ability to bring new interactive content with engaging experiences for kids."
Alan Anderson, CEO of Fanlala added, "It's not often that you have the opportunity to work with one of the most talented writers in television today. Anthony's passion for storytelling, his unique understanding of audiences and his comfort level with technology really made him the perfect partner for Fanlala. We really couldn't think of another individual more poised to take our business into a new era of original content for kids, as well as a better partner than Fuhu to reach the desired audience."
Pricing and Availability
"Mysteryopolis" is now available exclusively on Fuhu's new nabi Pass, a first-of-its kind subscription service created and curated specifically for kids which provides unlimited learning with Wings Unlimited and a vast array of mixed media content – movies, TV shows, videos, apps, music, games and e-books. nabi Pass is available on Fuhu's family of nabi tablets including, the best-selling nabi 2, award-winning nabi DreamTab and the recently launched, category-defining, nabi Big Tab HD 20" and 24" for a low monthly fee of $4.99.
About nabi Pass
nabi Pass offers unlimited access to a complete learning solution, Wings Unlimited, comprehensive and personalized learning system that adapts to each child's proficiency for Pre-K to 6th grade with over 300,000 questions and 16,000 lessons covering reading, writing and math. In addition, nabi Pass gives unlimited access to multiple media categories spanning across videos, TV shows, apps, games, music, and books, offering everything a child needs in a nabi. nabi Pass also focuses on "good for the brain" that helps kids learn about the world around them and content to enrich and inspire kids to further their interest and creativity. Unlike other content services, nabi Pass delivers a continually refreshed set of content curated monthly to introduce children to new content to promote discovery versus constant replay. Currently, Fuhu's nabi Pass service features a vast array of content from an impressive line-up of partners such as National Geographic Kids, Walt Disney Records, DreamWorks Animation, Nelvana and Cupcake Digital, among many others.
For more information, visit http://www.fuhu.com and http://www.nabi.com.
About Anthony E. Zuiker
Zuiker is the creator of television's hugely successful "CSI" franchise, currently serving as executive producer of "CSI: Crime Scene Investigation" and the newest series in the franchise, "CSI: Cyber." Previously, he created and executive produced his first reality series "Whodunnit?" for ABC. One of the most groundbreaking cross-platform storytellers today, Zuiker created and executive produced "Cybergeddon," a digital blockbuster for Yahoo! The project caught the attention of the International Digital Emmy Awards, and in April of 2013, Zuiker was recognized as the recipient of the 2013 Pioneer Prize at MIPTV in Cannes. Zuiker is also credited as pioneering the "Digi-novel" genre as author of the "Level 26" series published by Dutton/Penguin Group.
About Fuhu, Inc.
Fuhu, Inc., the creator of the nabi® tablet, is the leading designer, seller and innovator of thoughtful consumer products and services for children. Fuhu is committed to creating children's solutions that are: (1) socially responsible, (2) made right, (3) make a difference in people's lives, (4) For Parents. By Parents.® and (5) dedicated to the intellectual development of children. Earlier this year, Inc. Magazine named Fuhu the #1 Fastest Growing in America for a second consecutive year, and Forbes named Fuhu the #1 Most Promising Company in America. Fuhu was also honored as the #1 Fastest Growing Company in North America in the Computer/Peripherals category on the Deloitte 2014 Technology 500™ list. Also, Fuhu was named a Kidscreen 2014 "Top 50" for being one of the top 10 digital media companies worldwide. Fuhu is headquartered in El Segundo, Calif., with offices in Denver, San Jose, China, Hong Kong, Taipei and Japan. For more information, visit http://www.fuhu.com and http://www.nabi.com.
About Fanlala
With a mission to innovate family-friendly entertainment, Fanlala is behind some of the most popular lifestyle sites for teens, tweens and parents, including Fanlala.com, Crixit.com and ThatWasSomething.com. In addition, the company offers Fanlala Radio, a first-of-its kind family focused streaming music service featuring an unprecedented 8 million profanity-free songs. In 2014, Fanlala moved into the original content space through a partnership with "CSI" creator Anthony E. Zuiker. The company's first project "Mysteryopolis" will be exclusively distributed initially via Fuhu's Award-Winning nabi tablets.
MEDIA CONTACTS
Jonalyn Morris for Anthony E. Zuiker and Fanlala
Jonalyn(at)jonalynmorrispr(dot)com
323-376-3632
Grace Ryu
Fuhu
Grace(dot)ryu(at)fuhu(dot)com
310-227-8230
Jeff Klein for Fuhu
Jeff_klein(at)dkcnews(dot)com
O: (212) 981-5189