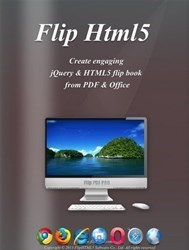 (PRWEB) December 21, 2014
FlipHTML5.com, the leading digital publishing software provider, has announced the start of its annual Christmas sale. From now on to the end of December, the company offers the Enterprise Edition of its HTML5 flip book maker at whooping 45% off. Anyone interested in this edition can purchase the software with a 45% off coupon code "AU4-JBH". Besides that, a 35% off coupon code "VJ5-AJ6" is available to the Platinum Edition.
The process of availing the discount is simple. The customers just need to log on the website http://fliphtml5.com/fliphtml5-pricing.php and enter the given coupon code. The users can then click update and take the final shopping step and avail the discount while making payment.
As the holiday season approaches near, the shopping fever has almost gained high temperatures. All around one will find shopping activities at their peak these days. Departmental stores and gifts centers have a rush of people and shoppers hunting around for things they want to buy for their loved ones. It is a time to celebrate and enjoy. Signs and Neon boards flashing headlines for huge discounts and holiday sales are everywhere to be seen. Attractive promotions and prices pull the customers towards them.
The software market is not left behind in this holiday season as well. Huge discounts and attractive offers are making customers buy in advance what they might need later on. FlipHTML5 Software Company is one of the generous businesses that are offering attractive discounts on various products.
Any queries regarding the products and discount offers are instantly responded. The users can simply type in the question and leave the message at http://fliphtml5.com/. The company support team will promptly get back.