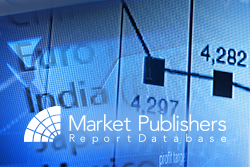 London, UK (PRWEB) December 19, 2014
The soaring demand for wireless microphones in China has garnered attention from a host of both foreign and domestic enterprises. The process for manufacturing preforms may differ from manufacturer to manufacturer. The country's optical preform sector has seen a fast-paced development with leading manufacturers boosting their capacity via a series of acquisitions.
Akg, Yamaha, Audio-Technica, Shure Incorporated, Sennheiser, Røde, Lewitt, Samson, Inmusic Brands, Inc., Blue, Superlux, Feilo, Mipro Electronics, Se Electronics, Takstar, Sony, Audix and Lane are amongst the most outstanding players in the wireless microphone universe.
New market study "2014 Deep Research Report on Global and China Wireless Microphone Industry" elaborated by QYResearch is now available at MarketPublishers.com.
Report Details:
2014 Deep Research Report on Global and China Wireless Microphone Industry
Published: December 2014
Pages: 212
Price: US$ 2,600.00
http://marketpublishers.com/report/hardware/networking_hardware/2014-deep-research-report-on-global-n-china-wireless-microphone-industry.html
The report provides in-depth insights into the current state of the wireless microphone industry worldwide, focusing on China.
The study presents basic information such as a definition, classification and application of wireless microphones; industry chain structure; industry review; wireless microphone industry policy review, and news analysis. It examines the wireless microphone market globally and that of it in China by covering different product types and applications, latest technology and product developments, competition, key regions' development status, a comparison analysis between the global and Chinese markets. The report offers an insightful discussion of the development plans and policies, manufacturing methods and cost structures, imports and exports of wireless microphones, demand and supply data, cost, pricing, production value, and gross profits. It offers information on the 18 industry players, covering company profiles, product portfolio and specification, production capacity, prices, cost, production value and contact details. The research publication also carries out an analysis of the upstream equipment, raw materials and downstream markets, wireless microphone industry marketing channels and development prospects. Furthermore, investment feasibility assessment, SWOT analysis, and ROI analysis are included.
Report Scope:

Overview of the wireless microphone industry.
Analysis of the wireless microphone market on a global scale and in China.
Wireless microphone technical data and manufacturing plant analysis.
Wireless microphone production by region.
Wireless microphone production process and cost structure.
Wireless microphone production, demand & supply, sales, market status analysis (2009-2014) plus forecasts.
Detailed examination of the dominant manufacturers of wireless microphones.
Assessment of the upstream and downstream industry.
In-depth analysis of wireless microphone marketing channels.
Look at the wireless microphone industry development path in the years to come.
Insight into industry development proposals.
Assessment of the feasibility of novel investment projects.
Overall research conclusions on global and China's wireless microphone sector.
More new market research reports by the publisher can be found at QYResearch page.