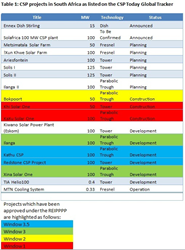 (PRWEB) December 21, 2014
By Jenny Muirhead
The DOE released a statement on 12 December 2014 outlining the outcomes of both Window 3 and the CSP-specific Window 3.5 under its Renewable Energy Independent Power Producer Procurement Program (REIPPPP).
According to the CSP Today Global Tracker, South Africa now has over 500 MW in development, 400 MW of which have been approved under the REIPPPP. This is in addition to the 200 MW currently under construction.
Source: CSP Today Global Tracker, 15 December 2014.
Previous delays
The financial close for Window 3 and the announcement of preferred bidders for Window 3.5 has been subject to numerous delays. Financial close for projects under Window 3 was originally expected to take place on 30 July 2014. The South African DOE however, delayed the process adopting what it called a 'staggered approach' to financial close.
In terms of Window 3.5, three projects were submitted in March 2014. They included the Kathu CSP project, Redstone CSP project and Ilanga II CSP project. Ultimately, the Kathu and Redstone projects were the preferred bidders.
Project Summary: Windows 3 and 3.5:
Window 3:
The CSP plants under Window 3 which have achieved financial close include the Xina Solar One project and the Ilanga CSP project.
Xina Solar One:
Developer: Abengoa
EPC: Abeinsa
Technology: Parabolic Trough
Ilanga I:
Developer: Emvelo and Cobra
EPC: Cobra
Technology: Parabolic Trough
Window 3.5:
The CSP projects under Window 3.5 which have achieved preferred bidders status include the Redstone CSP project and the Kathu CSP project.
Redstone CSP Project:
Developer: SolarReserve and ACWA Power
EPC: Tecnicas Reunidas and TSK
Technology: Tower
Kathu CSP:
Developer: GDF Suez
EPC: Acciona and Sener
Technology: Parabolic Trough
Where next for CSP South Africa?
Whilst no CSP has been allocated under Window 4 of the REIPPPP, industry stakeholders are optimistic that upcoming Windows will include CSP. The country has a healthy pipeline of projects in planning backed by developers with extensive experience.
Whilst no clear outline has been provided for a 'Window 5' we are hopeful that this will include some more good news for CSP.
For more details on the above mentioned projects, please sign up for a free trial on the CSP Today Global Tracker. Contact Aleksandra Sledzinska: asledzinska(at)csptoday(dot)com.