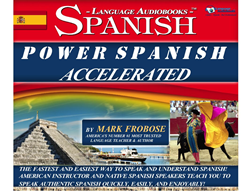 All of our programs, including Power Spanish, Power French, Power Italian, Power Mandarin and Power Portuguese are on sale
Champaign, IL (PRWEB) December 20, 2014
A powerful sale of all Language Audiobooks digital power language programs was announced today by Mark Frobose, founder and CEO of LanguageAudiobooks.com.
"All of our programs, including Power Spanish, Power French, Power Italian, Power Mandarin and Power Portuguese are on sale," he explained.
"We thought this was the time to deeply discount all of our popular "Power" digital language programs just in time for last-minute shoppers to buy their gift program on Audible.com and schedule email delivery in time for Christmas," says the bestselling language author of Power Spanish 1 Accelerated.
Why the name "Power" for these language programs?
"The "Power" language programs are truly "powerful" in the sense that they give the listener the ability to learn to speak and understand a second or third language with one simple $19.00 program," explains Mark Frobose, who also authored the bestselling Power French Accelerated.
"Whether it's Power Spanish, Power French, Power Italian, Power Mandarin Chinese, or Power Brazilian Portuguese, the results are the same," states Frobose emphatically.
Learn Languages Everywhere® is the motto of LanguageAudiobooks.com. The Language Audiobooks® method is an extremely effective and versatile audio language learning system that can be used anywhere for any duration of time to teach people to speak any language while in the car, at home or on a smartphone!
Free sample lessons of Language Audiobooks' popular Power Spanish, Power French, Power Italian, Power Portuguese, Bite-Sized Mandarin, Conversational Latin-American Spanish, Clean French Slang and other innovative language programs are available now at LanguageAudiobooks.com and at Audible.com.