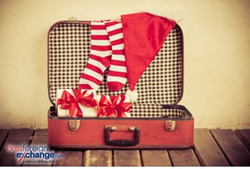 Over four million holiday tourists will travel overseas before and after Christmas
London, UK (PRWEB UK) 23 December 2014
Over four million holiday tourists will travel overseas before and after Christmas, TTG Digital reported on 18th December. Over 40% of these travellers will use Heathrow followed by Gatwick (20%) and Manchester (9.5%). Another 6% will cross the channel by Eurostar.
Most holiday travellers will be heading to Europe for a short break while others look for more exotic destinations with warmer climates, such as Morocco, Egypt and Asia.
"The Christmas holiday is a wonderful time for Londoners to get away from their busy lives. They always look for the best travel deal during Christmas and we are up to that," stated Trevor Samuel, Senior Manager of BestForeignExchange.com
Ranked as the most competitive exchange rate provider by many publications, including Which? and The Telegraph, BestForeignExchange.com offers the most competitive exchange rates in the UK.
"We offer the best deal and no hidden charges unlike pre paid cards and debit cards for overseas transactions. Currencies are readily available at our stores and can also be received the next day via Royal Mail," continued Samuel.
About BestForeignExchange.com
Owned and operated by Thomas Exchange Global, BestForeignExchange.com offers the most competitive exchange rates in London and customers that reserve currencies online will be assured the same exchange rate until close of business on the particular day despite any adverse fluctuations. They stock the widest range of foreign currencies in London with over 120 types of foreign bank notes. All foreign currency buy/sell transactions are free of any commission or charges.
Thomas Exchange Global also offers International Money Transfer Service where funds can be remitted to overseas bank accounts within one to two days. With commission free service for transfers over £10,000 backed by competitive exchange rates, customers are assured of a better deal and a substantial saving compared to banks and money brokers. Thomas Exchange Global branches are located at Strand, Victoria Street, Liverpool Street, Hammersmith, Cannon Street and Wormwood Street.