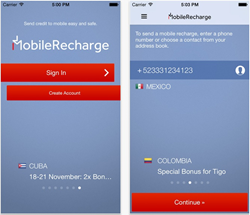 "Very easy and handy service to use. I used this website to add minutes to my parents cell phones in Costa Rica. It was very easy to use and the time was added almost instantly." (Darcy Trett, United States)
Atlanta, Georgia (PRWEB) December 21, 2014
For all those looking for the simplest way to send mobile credit to a cell phone in another country, MobileRecharge.com launched MobileRecharge, an app for iOS and Android devices. The app is free to download on App Store and Google Play, and it is the result of constant customer feedback collected throughout several years.
From day 0, MobileRecharge app has been downloaded by hundreds of iOS and Android users worldwide, but especially from the USA. Most of MobileRecharge fans are residents in the USA, Australia, Canada, and the largest countries in Europe. The top 10 countries where MobileRecharge customers send credit via the MobileRecharge app or their PC are: Dominican Republic, Jamaica, El Salvador, Mexico, Nepal, Cuba, Nigeria, Honduras, Haiti, Ghana.
From the get go, MobileRecharge app stood out as an app with many strong points:

top ups to all major operators
one account for credit transfers to different numbers and countries
best recharge value on the international market
easy to use Help Center
phone Contacts imported automatically
daily promotions displayed on the start page
direct access to recharge history
direct access to the online account
free SMS to notify the beneficiary of the amount received
PayPal accepted besides all major debit and credit cards
free account on MobileRecharge.com
user-friendly interfaces
It takes less than 1 minute to make a recharge via MobileRecharge app, and the top up is received instantly. The app supports top ups to prepaid numbers in over 100 countries on all continents, pertaining to over 350 operators, including Cubacel, Digicel, Movistar, Claro, Tigo, MTN, Orange, Airtel, SingTel, China Mobile, T-Mobile, BSNL, Etisalat, Reliance, Aircel, Vodafone, etc.
MobileRecharge app is mostly useful for people living in other countries than their native ones. And that holds true because ethnic groups are generally willing to regularly support their families and friends back home by transfering mobile credit from their own MobileRecharge.com account.
Thousands of millions of customers make mobile recharges using the MobileRecharge.com service. On review websites, such as Trustpilot, they label it as "reliable," "easy to use," "fast" and "secure," and show their appreciation to MobileRecharge friendly and supportive customer care team.
"Works perfectly. I have used the service in my own country and I have to say this service, while internationally based, has never let me down once. I may cost me a few cents more, but at the end of the day, I have never had a problem. Even when recharging someone's phone who happens to be overseas at the time. Keep up the good work people." (Tekno Junkies, Trinidad and Tobago)
"Very easy and handy service to use. I used this website to add minutes to my parents cell phones in Costa Rica. It was very easy to use and the time was added almost instantly." (Darcy Trett, United States)
How to top up using MobileRecharge app:

One can directly install the MobileRecharge app on their iOS or Android mobile device from App Store or Google Play.
If new to MobileRecharge, one should press "Create Account" on the startpage of the app to open a free account. If someone already has an account on MobileRecharge.com they should simply press "Sign in" on the first use, and enter the email and password registered on the website.
Once logged in, anyone can go ahead and make their first top up: select operator, enter number and pick a desired amount to send according to your budget.
Promotions run every day and help one save money. To stay tuned, customers are advised to:

MobileRecharge.com stands out on the international market for a number of reasons:

Best deal on the market due to the high top up value (order value & amount ratio)
The possibility to recharge mobiles in different countries and different operators from one account only
Secure payments via PayPal, or using any major credit/debit card ("Verified & Secured label)
Instant mobile load
MobileRecharge app for top ups on the go
Easy and fast online top up; purchase time: about 1 minute
No hidden fees; all costs are displayed in the checkout
24/7 Support by email, phone and in the Help Center (Search box), in both English and Spanish
Friendly and efficient customer care team
Clear and honest website information
Free account that never expires
Website accessible in English, Spanish, French, Italian, German
Recharge history and other transaction details in the online account
Easy navigation and purchase from PC, tablet and mobile
100% service fairness and correct privacy policy as certified by BBB and TRUSTe
About MobileRecharge.com
MobileRecharge.com is a website dedicated to supporting communication through affordable international top ups. MobileRecharge.com is a brand of KeepCalling, a company registered in 2002 in the USA offering varied services for expats worldwide. From the get-go, MobileRecharge.com was established as a service focused on great recharge value and best rates for international calls and SMS, helping ethnic groups save money and benefit from high quality services.
KeepCalling, the company behind the service, was listed as no.18 among the fastest growing telecom companies in the USA in 2014, with an increase of 506% from $6.7 million in 2010 to $41.0 million in 2013. KeepCalling provides numerous telecom solutions: mobile recharges (direct top ups, airtime credit or mobile load), Voice Credit for calls and SMS, Virtual Numbers (local numbers), monthly plans for different destinations, through various ethnic websites. Presently, KeepCalling serves hundreds of thousands of consumers and businesses worldwide, with a high focus on customer satisfaction.