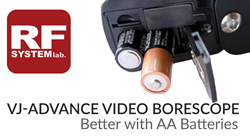 Traverse City, MI (PRWEB) December 22, 2014
Some of the most important features companies look for when investing in a high-quality video borescope are portability and a reliable, long-lasting power source. RF System Lab, a world-wide leader in remote visual inspection technology, introduces the VJ-Advance video borescope – an extremely portable, high-end inspection camera that runs on standard AA batteries.
The VJ-Advance video borescope from RF System Lab is compact in size and weighs in at only 23oz, making it ergonomic and extremely lightweight. Lower-quality borescopes are bulky and, in some cases, require access to an electrical outlet to operate. The VJ-Advance is easily transported and, while a direct AC-110 power adapter comes with the VJ-Advance for non-stop, continuous power, the video borescope's main power source is standard AA batteries.
There are numerous benefits to owning an inspection tool that operates on standard AA batteries. One notable benefit is that running on AA batteries means that there is no downtime waiting for the borescope to recharge. If the VJ-Advance's AA batteries die, the user simply needs to take out the old batteries, replace them with new ones, and the VJ-Advance is ready for use. This immediate, on-demand power option is one of the many things that sets RF System Lab apart from other video borescope providers.
Most video borescopes come with a rechargeable lithium-ion battery, which means that while the scope's battery is charging, there is downtime where it cannot be used for inspections – something that can be detrimental if there is an immediate inspection need. If a charger is lost and needs to be reordered, technicians may have to wait a week or more to complete an inspection. With the VJ-Advance articulating video borescope, you never have to worry about wasting time while waiting for any part to charge or for replacement battery accessories to arrive. The VJ-Advance is ready for use whenever it is needed.
Large lithium-ion batteries, which are the primary source of power for many borescopes on the market, are not easily transported. While AA batteries are legal on airplanes, lithium-ion batteries must have less than 25 grams of lithium content per battery in checked baggage, and are not allowed in carry-on baggage per the FAA. This makes traveling with borescopes that require rechargeable lithium-ion batteries extremely difficult. The lightweight VJ-Advance video borescope not only comes with a carry case that holds all accessories, but is easily transported because of the widely-accepted AA power source.
Companies interested in seeing firsthand how portable and user-friendly the AA battery powered VJ-Advance video borescope is for internal inspections are invited to sign up for RF System Lab's no-cost, no-obligation demo program. Visit the RF System Lab website or call (855) 787-6966 to speak with a video borescope expert.