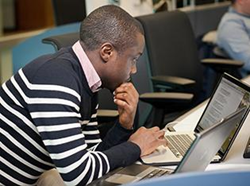 We tried to create something that closely considered the demands being placed on businesses that realize the importance of using Big Data to make effective decisions.
Hoboken, NJ (PRWEB) December 19, 2014
The Business Intelligence Analytics (BI&A) master's degree program at Stevens Institute of Technology has been named among the top 10 of its kind in the United States, according to The Financial Engineer.
The Stevens BI&A degree was among the first business intelligence degrees in the region to put a strong emphasis on Big Data, according to Professor Ted Stohr, program coordinator. As such, classes emphasize a heavy use of technology tools to help students mine mountains of data to develop actionable business strategy.
Software boot camps emphasize skill development in Hadoop and MapReduce, SQL, R, and Python; the understanding of these models is put to test in a capstone course in which students apply these skills to a real-world problem posed by a company.
"We tried to create something that closely considered the demands being placed on businesses that realize the importance of using Big Data to make effective decisions," said Professor Christopher Asakiewicz, BI&A program director. "We look to build not just the competency — what you need to know — around analytics, but the skills in order to do analytics effectively."
That includes blending that cutting-edge technology with solid business training, including communication and presentation skills, financial decision making, and risk management.
Hao Han, a student in the BI&A program who wants to become a data scientist, has already benefited from his knowledge while working as an intern at AppCard.
"Stevens is absolutely the best choice," he said. "The curriculum they provide is very comprehensive and the professors give you everything you need — boot camps on the weekends and introductions to industry people. The program is challenging, but rewarding — you learn math, you learn programming, you learn the tools, you learn business."
The Financial Engineer's most important ranking criteria are the average test scores of accepted students and the mean starting salaries and bonuses of graduates, along with employment rates of graduates. Stevens scores well in these areas because the BI&A program is strengthened by its close ties to industry — both in terms of curriculum development and its location, just across from Manhattan in Hoboken, NJ.
The Financial Engineer, a news and rankings website, reports on the finance industry and ranks MBA and other master's degree programs. The complete listing of the schools on its top 10 list can be found here.
About Stevens
Stevens Institute of Technology, The Innovation University®, is a premier, private research university situated in Hoboken, N.J. overlooking the Manhattan skyline. Founded in 1870, technological innovation has been the hallmark and legacy of Stevens' education and research programs for more than 140 years. Within the university's three schools and one college, more than 6,800 undergraduate and graduate students collaborate with more than 380 faculty members in an interdisciplinary, student-centric, entrepreneurial environment to advance the frontiers of science and leverage technology to confront global challenges. Stevens is home to four national research centers of excellence, as well as joint research programs focused on critical industries such as healthcare, energy, finance, defense, maritime security, STEM education and coastal sustainability. The university is consistently ranked among the nation's elite for return on investment for students, career services programs and mid-career salaries of alumni. Stevens is in the midst of a 10-year strategic plan, The Future. Ours to Create., designed to further extend the Stevens legacy to create a forward-looking and far-reaching institution with global impact.