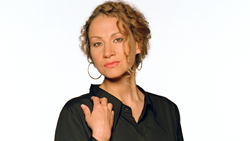 Fairfield, CT (PRWEB) December 19, 2014
With a multitude of sold-out performances at StageOne, The Klein Auditorium in Bridgeport, and The Norwalk Concert Hall, the Fairfield Theatre Company says goodbye to 2014 with three incredible performances by three astounding acts: Joan Osborne, New Riders of the Purple Sage, and 10,000 Maniacs.
Starting off the end-of-the-year festivities at StageOne will be the multi-platinum recording artist and seven-time Grammy nominee Joan Osborne, who will return to the intimate venue at 7:30 p.m. on Friday, Dec. 26.
Mixing together American roots music, poetic lyrics and impassioned vocals, there's no question as to why Joan Osborne is considered one of the greatest voices of her generation. Osborne owes her legendary career to her main influences, Etta James and Ray Charles, who helped mold her soulful voice. She has had a prosperous career, performing alongside many notable musicians, including Bob Dylan, Luciano Pavarotti, Stevie Wonder, Emmylou Harris, Patti Smith, The Grateful Dead and more.
Osborne comes back to StageOne in support of her eighth studio recording, "Love and Hate." The album, which is co-produced with Jack Petruzzelli (Patti Smith, Rufus Wainwright), was recorded in the woods of Pennsylvania and in her current hometown of New York City. The pair previously has collaborated for Osborne's "Bring It On Home" album, which was nominated for the Best Blues Album Grammy last year.
"These songs resonate especially deep for me," said Osborne. "I feel like I've grown so much as a songwriter, using simpler and simpler language, getting to the heart of the matter in a purer way."
Osborne explains the concept behind "Love and Hate:" "The image I keep coming back to is that of a beam of white light: we think it's one thing, but when you shine it through a prism, you see that it's made up of many different colors, different frequencies. Love isn't just one thing either; it can be made up of faith and passion, power struggles, humor, anguish, deep spirituality, lust, anger, everything on that spectrum. People we love can bring out the very best and the absolute worst in us, and we can do that to them, too. Love is always a risk."
The end-of-the-year celebration is just heating up as FTC welcomes back the iconic `70s psychedelic country rock band, the New Riders of the Purple Sage, for a night of fun music that will have any Grateful Dead fan dancing in their seat at 7:30 p.m. on Dec. 28.
Originally featuring most of the members of the Grateful Dead in the early '70s, the highly-successful and forever-inspirational New Riders of the Purple Sage still bring honor to psychedelic country/rock, a genre they helped create. NRPS' initial sound is a kind of country-acid rock, somewhat twangier, which today features a wonderful mix of what everyone loves about rock 'n roll: the country influence, the jammy freedom and the tight, immortal, roots-y storytelling.
Musically, the band's tight, rambling, jamming style is itself a tribute to the late John Dawson, a founding member of the band.
The band notes on their website, "His songs inspired us in so many ways. His energy, passion and commitment to the New Riders brought us all so much joy over the years. We can all be thankful that his music and legacy will live on forever."
Finally, what better way to say goodbye to 2014 and hello to 2015 than by welcoming back 10,000 Maniacs to the intimate StageOne venue at 9 p.m. on New Year's Eve.
Named after the low-budget horror movie, 10,000 Maniacs was formed in Jamestown, New York in 1981 by Robert Buck, Dennis Drew, Steven Gustafson, John Lombardo and Natalie Merchant. Defining the college rock sound by helping create the first wave of alternative rock, 10,000 Maniacs have continued to deliver powerful, danceable and socially-conscious original material for over three decades with albums that have peaked as high as number 13 on the rock charts, including "Blind Man's Gold" which happened to go gold.
Now 10,000 Maniacs return to StageOne, where tickets sold out in less than two months before they could even go on sale to the public, to rock in the new year. The Fairfield Theatre Company welcomes this dynamic group back to bring a special night of music. The night will also feature special guests who will join the band and help them rock in the new year.
Join Fairfield Theatre Company and say goodbye to 2014 with the three amazing performances that will rock out the old and bring in the new.
Joan Osborne
Date: Friday, Dec. 26
Doors: 7 p.m.
Show: 7:30 p.m.
Venue: StageOne 70 Sanford St., Fairfield, CT 06605
Tickets: $65 Advance Members Save $10
Buy tickets: Box Office: 203.259.1036 or reserve online: http://www.fairfieldtheatre.org
New Riders of the Purple Sage
Date: Sunday, Dec. 28
Doors: 7 p.m.
Show: 7:30pm
Venue: StageOne 70 Sanford St., Fairfield, CT 06605
Tickets: $38 Advance Members Save $3
10,000 Maniacs New Year's Eve
Date: Wednesday, Dec. 31
Doors: 7 p.m.
Show: 7:30 p.m.
Venue: StageOne 70 Sanford St., Fairfield, CT 06605
Tickets: $115 Advance N/A Member Discount. All patrons 21 years or older will receive a complimentary glass of champagne at midnight.
About the company:
Fairfield Theatre Company is a highly-acclaimed non-profit performing arts organization located in the heart of downtown Fairfield, Connecticut. FTC presents nearly 250 performances and concerts each year featuring outstanding national talent on FTC's StageOne in Fairfield, The Klein Auditorium in Bridgeport, and the Norwalk Concert Hall in Norwalk. FTC's intimate 200-seat StageOne concert venue is widely recognized as being one of the best places to see a live performance in the region. FTC is dedicated to providing the highest-quality arts, live entertainment and educational experiences to the communities it serves.