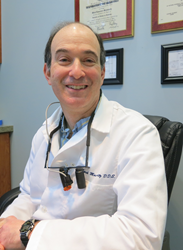 Saratoga Springs, NY (PRWEB) December 19, 2014
Dr. Mark Moskowitz now utilizes advanced technologies for diagnosis and treatment planning at his new dental practice in Saratoga Springs, NY. Dr. Moskowitz is proud to now offer DIAGNOdent technology to detect cavities as well as digital x-rays, and intraoral cameras to help determine each patient's individual health needs.
Adult cleanings are a special priority with Dr. Moskowitz. It is important for patients to follow a thorough home care regimen by brushing and flossing daily. Regular dental cleanings and exams are also important to dental health. Dr. Moskowitz utilizes advanced technologies, such as DIAGNOdent, to diagnose dental issues early.
With the DIAGNOdent system, Dr. Moskowitz is able to spot even the slightest area of decay, helping his patients avoid the problems that come with unchecked decay in the teeth. With a laser scanner, DIAGNOdent scans the teeth and alerts Dr. Moskowitz to areas beginning to decay that may not be seen visually or on x-rays.
Along with adult cleanings that help patients to maintain good oral health, Dr. Moskowitz provides digital x-rays which are better than traditional x-rays in several ways. Firstly, digital x-rays deliver high-quality, clear images that allow the doctor to assess the condition of the mouth thoroughly. Secondly, they result in 90 percent less radiation exposure for the patient, and they benefit the environment with less materials used. Digital x-rays can be viewed on a screen and enlarged for a clearer view of suspicious areas.
Dr. Moskowitz also utilizes an intraoral camera which is able to diagnose and assess the state of oral health much more completely. The first advantage of the camera is a large clear screen that gives the doctor a more detailed view of the conditions of the mouth. The second advantage is that Dr. Moskowitz can share his view of intraoral conditions with the patient as needed. Altogether, Dr. Moskowitz uses advanced technologies and training to provide his patients with excellent dental care.
To learn more about Saratoga Springs, NY dentist, Dr. Moskowitz and his use of advanced technologies such as DIAGNOdent and digital x-rays, visit the web at http://www.SaratogaSpringsDentalCare.com. For more information about the full range of services including adult cleanings and more, call the office at 518-584-2848.
About the Practice
Springs Dental is a general practice offering personalized dental care for patients in Saratoga Springs, NY. Dr. Mark Moskowitz has enjoyed practicing as a dentist in Queensbury, NY for the past 23 years and recently announced the opening of his new dental practice, Springs Dental, in Saratoga Springs. Dr. Moskowitz dedicates many hours to continuing education in order to continually refine his skills and stay abreast of the latest dental technologies. Dr. Moskowitz is proud to provide technologically advanced dental care in a manner that is comfortable for his patients. Patient comfort and attention to detail, resulting in work that feels natural and lasts many years are hallmarks of Dr. Moskowitz's work. To learn more about the dental services available at Springs Dental, please visit http://www.SaratogaSpringsDentalCare.com or call 518.584.2848 to schedule a consultation with Dr. Moskowitz.