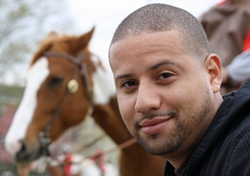 Atlanta, GA (PRWEB) December 23, 2014
Presence Technology, a global provider of multi-channel contact center solutions, recently hired Len Alvarez as Solutions Development Manager. Alvarez will lead a specialized team of developers in charge of designing and building customized solutions for clients looking to integrate Presence with specific business processes.
Alvarez began his engineering career in the marketing automation industry with Silverpop, now part of IBM. As a member of a specialized team, he was in charge of monitoring data synchronization between the Silverpop email platform and Salesforce.
Following Silverpop, Alvarez joined Point-Of-Sale tech startup venture, ZeeZor. In this role, he designed and implemented the data synchronization of POS kiosks with a custom built backoffice solution. He was also in charge of engineering the integration layer of the POS system with all the input hardware devices to allow for real-time logistical reporting.
Alvarez later joined top Atlanta technology consulting firm, Innovative Architects, as a web developer for special integration projects where he developed custom integrations for local Atlanta companies like Spanx and the Georgia Lottery.
Fiserv later recruited him as part of their integration development team for their mobile division. In this role, Alvarez helped in Fiserv's efforts to consolidate their financial systems onto one platform for mobile applications.
Alvarez obtained his degree in Computer Science and Software Engineering from Southern Polytechnic State University and currently resides in Suwanee, GA where he enjoys spending free time with his wife and two children.
About Presence Technology
Presence Technology is a worldwide leading provider of multi-channel contact center solutions that enable contact centers to optimize resources and improve communication process efficiencies. Designed to work as a standalone solution or in tandem with an existing PBX, Presence simplifies communication between businesses and their customers, reducing the need for costly equipment changes or upgrades. Presence solutions are consistently recognized for quality and innovation, most recently receiving TMC awards for Unified Communications Product of the Year and Communications Solutions Product of the Year. Presence has a portfolio of global clients serviced by a team of highly skilled professionals, and a network of strategic partners in North America, Latin America, Europe, and Africa supporting their efforts around the world. Visit presenceco.com for more information.