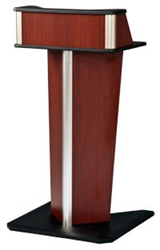 Milwaukee, WI (PRWEB) December 30, 2014
Admiring famous people who have delivered some of the most famous speeches in history is a noble thing. Words and speech have power and it is usually the first stage after a courageous thought to bringing forth real change in the world.
Now there are many speeches, debates and messages being sent out by people who are not famous as well, all over the world. Teachers, professors, motivational speakers and preachers are delivering thought provoking and mind stimulating addresses every moment of the day. Depending on a particular statement, this could be just as impactful and persuasive as any other famous person's historic words.
Just as important sometimes as words, is the stylishness in which it's delivered. Politicians know this too well.
Practicing how words are said is given just as high a priority as what is said. Having great content is essential, but if it is delivered in a careless way, it will doom the presentation from the start.
Many believe John F. Kennedy won over Richard Nixon in the debates because of the way it was presented, not so much of what was said. (not sure, but just an opinion).
Most of these instances have another thing in common, something that most people don't ever think about, but is almost always there right beneath each and every speaker…a great podium.
Yes, it may seem to be an obvious thing and at first thought may seem insignificant, but nothing could be further from the truth.
Many times the style and quality of a podium or lectern can make the difference in the comfort level of a speaker. Of course, the more comfortable the speaker, the more likely they will deliver a successful speech. The style, quality, steadiness, look and feel of a particular podium could play a big role in the whole experience.
If a speaker wants to be taken seriously, before even considering providing their gifts with words to the audience, they should contemplate the type of pedestal that they want to stand with them in history.
Questions to ask, should it be tall or not so tall, wood, metal or plastic, decorative or a little less than that? It's all preference but a pretty important choice.
Telcom & Data has just what any speaker is looking for with a collection of AV Lecterns and Podiums. These elegant podiums and lecterns are available in a wide range of colors and styles making them suitable for a variety of locations.
Ask not, what a podium can do for a room, ask what a room will say about the podium!
AV Lecterns and Podiums are now available at Telcom & Data. For more information about AV Lecterns and Podiums, visit Telcom & Data's website or call 1-800-335-0229.
ABOUT Telcom & Data:
Since 1996 Telcom & Data has been providing thousands of telecommunication solutions to organizations around the world to measurably improve communications. The company is a leader in call recording and call accounting solutions. Telcom & Data maintains a network of over 1500 technicians with locations in Chicago, Milwaukee, and Miami.