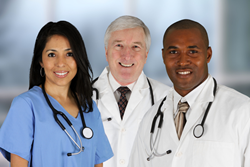 Flu shots are important because they kick-start the body's immune system to patrol and attack viruses
Phoenix, AZ (PRWEB) December 19, 2014
As Associated Press Medical Writer Mike Stobbe explains in his December 4, 2014 article, published on boston.com, the U.S. Centers for Disease Control and Prevention (CDC) have released reports that the 2014-2015 influenza vaccination is unlikely to be as successful at battling this season's virus as researchers had hoped. Nevertheless, the health experts at Doctors Express Phoenix explain that this year's flu shot may still help people fight the virus, and that a small decrease in effectiveness this year does not mean that flu vaccinations in following years will be equally as ineffective.
Dr. Tom Frieden, the Director of the CDC, explained in a news conference on December 4th that it's impossible for researchers to determine how severe the flu will become each year, but researchers had expected this year's vaccine to be about 50% to 55% effective, as last year's vaccine was. Unfortunately, recent samples of the 2014-2015 flu (taken from patients who have contracted the virus already) show that around 52% of the virus is composed of strains that were not used to create the vaccine.
Because there are numerous strains of the influenza virus, researchers collect the most prominent strains from across the world in order to create a new vaccine each year; despite their work, it's possible for a vaccine to be less effective than anticipated because the strains continue changing after the vaccination has been developed and distributed.
According to Terri Porter, the Clinic Administrator at Doctors Express Phoenix, the flu vaccine is never intended to be 100% effective for preventing the flu, but receiving a flu vaccination each year from a doctor's office, urgent care or walk in clinic is still important and affordable.
"Flu shots are important because they kick-start the body's immune system to patrol and attack viruses," Porter explains. "As the article states, flu vaccines are, at best, 50% effective. The viruses evolve and change after the vaccine is developed, but components of these mutations can still be disrupted by the current flu vaccines. In other words, the duration and severity of symptoms can still be lessened by the most recent vaccine."
"In addition to receiving an annual shot, it's important to keep your hands washed and away from mucosal surfaces such as the eye, mouth, and nose, because the influenza virus is spread by coming in contact with these areas and then touching other people or surfaces. Using a disinfectant on hard surfaces such as counter tops and door handles can also stop the transmission of the flu virus, as well as other types of bacteria that may dwell on these surfaces."
About Doctors Express Phoenix
Doctors Express Phoenix offers a wide range of medical services to their patients, including lab testing, treatment for minor injuries and trauma, adult vaccines, physicals, and more. The clinic is open seven days a week, and takes walk-ins or appointments. To learn more about what Doctors Express Phoenix has to offer in affordable care, visit http://www.doctorsexpressphoenix.com.