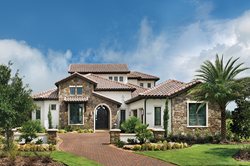 Clearwater, FL (PRWEB) December 19, 2014
Arthur Rutenberg Homes, a Florida-based luxury custom home builder, released five new videos on their YouTube channel featuring their newest Florida Model Homes.
Historically, Arthur Rutenberg Homes releases images, custom home plans and written descriptions. Today, all model feature videos of the homes that are promoted on their website just like the images.
We have found that prospective customers want the videos as they provide a great sense of space and scale that our custom homes evoke"., stated Erik Cocks, online marketing for Arthur Rutenberg Homes.
The home builder has embraced the videos to show their homes and found that YouTube provided an ideal distribution channel as many tablet and phone users can easily see them and research model homes more effectively.
Arthur Rutenberg Homes plans to release additional videos as models open in Florida and the other states they build in.
The models they recently uploaded include:

The Montecito Model Home (1269) - located at Navona in Miromar Lakes, FL
The Asheville Model Home (1264) - located at Glen Kernan in Jacksonville, FL
The Monaco Model Home (1248) - located at the Islands of Wilderness Place - Parrish, FL
The Carmel Model Home (1242) - located at the Preserve at Fish Hawk Ranch in Lithia, FL.
The Sherwater Model Home (1230) - located at Wild Heron in Panama City Beach, FL
Arthur Rutenberg Homes plans on posting additional models of Luxury Custom Model Homes outside of Florida starting in 2015.
See all their models at the Arthur Rutenberg Homes website.