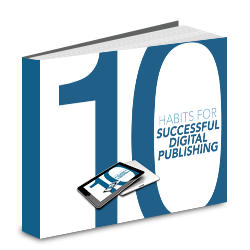 Denver, CO (PRWEB) December 22, 2014
Quark Software Inc. announced today a new eBook called "10 Habits for Successful Digital Publishing," a guide for corporate and journal publishers who are creating or rethinking their digital publishing strategies. Written by experts in digital and mobile publishing, readers will get a better understanding of the technologies and best practices for reaching, engaging and understanding consumers of digital content.
Download "10 Habits for Successful Digital Publishing" to gain insight on:

Trends in tablet publishing, such as device fragmentation
Embracing a digital-first publishing strategy
Moving beyond PDF replica apps by adopting HTML5 apps
Designing apps for maximum engagement
Leveraging the cloud for digital publishing
Integrating analytics into apps to track and understand usage
And more
The writers of "10 Habits for Successful Digital Publishing" work with industry leaders across media, manufacturing and financial services industries to create award-winning tablet, smartphone and Web apps with App Studio. App Studio is the cloud-based digital publishing solution that transforms content into HTML5 for delivery across devices. Learn more at http://www.appstudio.net or take a look at current App Studio apps http://www.appstudio.net/Clients/.
About App Studio
App Studio (http://www.appstudio.net) is the next generation digital publishing solution that uses HTML5 to push the bounds of user experience without the high cost and effort associated with custom app development. App Studio is the only digital publishing solution that allows users to create branded content apps using QuarkXPress®, InDesign, HTML5 and XML. Through a managed cloud environment designers, authors and extended teams are able to collaborate to create rich, interactive content that can be delivered across multiple platforms and devices.
About Quark Software Inc.
Quark's software enables organizations of all sizes to meet customer demand for engaging, relevant communications when, where, and how they want them. Our solutions combine the power of XML with flexible layout and design to automate the delivery of customer communications to print, Web, and interactive experiences on the latest digital devices. Financial services firms, manufacturers, and governments around the world rely on Quark solutions to elevate customer communications to new levels, reduce time to market, and lower costs.
# # #
App Studio and the Quark logo are trademarks or registered trademarks of Quark Software Inc. and its affiliates in the U.S. and/or other countries. All other marks are the property of their respective owners.