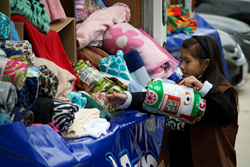 Dallas, TX (PRWEB) December 19, 2014
Supporting the community is a key component of Sleep Experts' business model and culture, and this December has been a record-breaking season of giving for the local mattress retailer.
With outreach extending throughout November and December, Sleep Experts has donated more than 500 beds and 5,000 comfort items, including blankets, sheets, comforters, pillows and towels, to local programs that provide support and stability to the underprivileged in the community. This year, the company's outreach benefited Christmas in the Park at Fair Park, CitySquare, Emily's Place, and KISS FM's Christmas Wish program.
Christmas in the Park at Fair Park
Hosted by the S.M. Wright Foundation, Christmas in the Park will take place on Saturday, Dec. 20 and will provide thousands of local families in need with toys, clothes, books, household items, and more. This year, Sleep Experts will contribute 500 beds to the event – the company's largest donation to date. Since 2010, Sleep Experts has donated 1,500 beds to the annual Christmas in the Park event. The S.M. Wright Foundation is a non-profit organization that provides support to inner city, underprivileged children and families through hunger relief and educational support, as well as health and social service support.
11th Annual Share the Warmth Blanket Drive
For the 11th consecutive winter, Sleep Experts hosted its annual Share the Warmth blanket drive from Nov. 1 through Nov. 30, collecting and donating more than 5,000 new and gently used blankets, sheets, comforters, pillows and towels with help from the Girl Scouts. This year, CitySquare, a Dallas-based 501(c)(3) non-profit organization that aims to fight the root causes of poverty through service, advocacy and friendship, was chosen as the recipient and received the thousands of items on Dec. 11. Since the blanket drive's inception, Sleep Experts has collected over 25,000 comfort items for the community.
Emily's Place
Emily's Place, a Plano-based non-profit that aims to break the cycle of domestic violence by providing a safe community for women and children, recently built and moved into their new campus. On Dec. 4, Sleep Experts donated and delivered all 30 beds for their new shelter, which can house up to 75 women and children.
KISS FM Christmas Wish
This year, Sleep Experts has partnered with local Dallas radio station KISS FM to help give the gift of sleep to a deserving family in the community. As part of the program, Sleep Experts will grant a single mother of five one of her Christmas wishes – a new bed – as part of the station's annual Christmas Wish program. Each year, the program allows listeners to nominate members of the community who deserve a Merry Christmas, and KISS FM helps make their wishes come true.
Gift of Sleep
Since 2003, Sleep Experts has provided its Gift of Sleep mattress donation program. When Sleep Experts delivers a new mattress to a customer, they remove and refurbish their old mattress, and donate it to organizations serving women and children in need.
About Sleep Experts
Sleep Experts is a mattress specialty retailer with 59 stores in North and Central Texas. The company has become one of the fastest growing mattress retailers in the U.S. by creating a strong culture focused on serving the customer and the community. Sleep Experts has won the Consumers' Choice Awards for eight consecutive years, a recognition voted by North Texas consumers and classifying Sleep Experts as a "Best in Class Business." The company also has been recognized seven times as a Best Place to Work in North Texas, earned distinction as an Inc. 5000 company, and is a winner of the Greater Dallas Business Ethics Award. Sleep Experts' new and exclusive Expert Match diagnostic system is an industry-leading technology, helping customers find the right mattress with the right support to best meet their sleep needs. The company shares the gift of sleep with families in need by donating customers' old mattresses to local non-profit organizations. For more information, visit http://www.SleepExperts.com or call (888) 55-SLEEP.
# # #