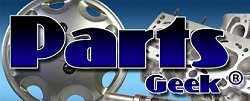 (PRWEB) December 22, 2014
Chrysler Group LLC has recently been in the news due to the fact that they have recalled hundreds of thousands of vehicles due to malfunctioning Takata air bags. In fact, as stated in an article released December 12th, 2014 on autonews.com, Chrysler is one amongst several big name automakers that have had to recall millions of vehicles due to faulty Takata air bags. When it comes time to take in a Chrysler vehicle to repair/replace the Takata air bags, those who find that they need other parts replaced during this time may desire somewhere else to turn for replacement parts besides the dealership. In fact, one place to turn is PartsGeek.com as they have just expanded their Chrysler inventory to feature over 89,400 auto parts and accessories.
Parts Geek currently offers auto parts and accessories for the following Chrysler models: 300, 300M, PT Cruiser, Sebring, Concorde, Town & Country as well as the Pacifica. Amongst the 89,400 auto parts and accessories vehicle owners will find air filters, alternators, brake pads, clutches, fog lights, steering racks, and antennas. Last but not least, Parts Geek also offers products from many leading brands such as Dorman, AC Delco, Action Crash and Husky Liner.
For potential customers who wish to read reviews that this leading online auto parts retailer has received for their Chrysler products, they will be pleased to find that they currently have over 2,100 reviews as well as 4.9 out of 5 star rating. A recent reviewer, who ordered a Dorman TPMS sensor, had this to say: "This product was exactly what I wanted and so much less than buying it as a factory part! Saved me a bundle! Was easy to install and just perfect!"
With an easy-to use website, Parts Geek makes it simple for any Chrysler owner to find the part he or she needs. To see their entire inventory of Chrysler products, please visit their website today.
About the Company:
At Parts Geek, they offer the best and most competitive prices on imported and domestic car parts. They also offer automobile accessories, and many of their items ship quickly—all from warehouses scattered throughout the US. Customers can pick from thousands—if not millions, of new automotive parts, refurbished/rebuilt parts, and more from reliable and certified manufacturers. To learn more please visit http://www.partsgeek.com.