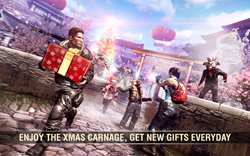 "Some special Xmas zombie meat on the table for a limited time is the latest bonus in the new update," explains Pavel Cizek, Project Leader of Dead Trigger 2. "Killing all of them is mandatory for every brave resistance member." adds Cizek.
Brno, Czech republic (PRWEB) December 22, 2014
Madfinger Games continues to maintain its legendary status with consistent critical acclaim and the high ranking of its games in app communities.
First, there is a generously decorated tree in the hideout. From December 24th - 28th, players can get daily gifts.
The story sequel leads to South America. The secrets of Supreme organization are waiting to be discovered. The storyline also brings new environments like an airplane and a nuclear power plant.
For all heroes and champions, the new Zen Arena is on the way. This uniquely designed arena requires a unique approach to the spread of death. Those who try hard will be handsomely rewarded. The new rotary-blade trap will provide some good fun. The true death meditation has only begun.
The legendary Katana weapon is now ready to serve as a part of every Resistance member's arsenal. The Katana spells out precision death for the undead with a dignified instrument of timeless tradition. Moreover, the Ak-74 and Butterfly are also now available for everybody.
Check out the xmas Update video: http://bit.ly/dt2_090_video
Download xmas Update screenshots here: http://bit.ly/dt2_090_screenshots
Dead Trigger 2 website: http://bit.ly/dtrigger2