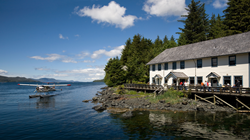 Ketchikan, Alaska (PRWEB) December 22, 2014
The Waterfall Group, leaders in adventure hospitality management, will kick off 2015 by exhibiting at two prominent automobile tradeshows, the 44th Annual Barrett-Jackson Scottsdale Auction and NADA/ATD (National Automobile Dealers Association and American Truck Dealers) Convention and Expo. Taking place in January, conference attendees are invited to stop by their booth to learn about the thrill of reeling in a trophy-sized catch at the most popular fishing lodge in Alaska, Waterfall Resort, and the closest lodge to the best fishing in Southeast Alaska, Steamboat Bay Fishing Club.
Next year will mark The Waterfall Group's fourth year as an exhibitor at the Barrett-Jackson Scottsdale Auction, set for January 10-18, 2015 in Scottsdale, AZ. Known as the "World's Greatest Collector Car Auctions," the event hosted an estimated 300,000 industry and consumer attendees last year with the 2015 auction anticipating a similar turnout.
This will be The Waterfall Group's second year exhibiting at the NADA/ATD Convention and Expo in San Francisco, CA January 23-25. The NADA/ATD is among the most powerful voices on transportation issues in the country, representing nearly 16,000 new-car and new-truck dealerships with 32,500 franchises, both domestic and international.
"Whether it be working with car dealerships to offer incentive trips to our resorts or offering a Ford Truck as the Grand Prize for Waterfall Resort's King of Kings Salmon Tournament, The Waterfall Group has a long standing history with all sectors of the automobile industry, and we look forward to continuing our relationship," said Chuck Baird, Director of Corporate Group Development of The Waterfall Group.
Home to the best fishing in Southeast Alaska and just a 90-minute flight from Seattle, the world-class Waterfall Resort and luxurious Steamboat Bay Fishing Club offer personalized service and amenities, distinct culinary offerings and expert marine crew. The 2015 fishing season at Waterfall Resort and Steamboat Bay Fishing Club is from early June to late August.
For more information visit http://www.WaterfallResort.com, http://www.SteamboatBay.com or call 800.544.5125.
About The Waterfall Group
Leaders in adventure hospitality management, The Waterfall Group presents Waterfall Resort, the most popular fishing lodge in Alaska, and Steamboat Bay Fishing Club, the closest lodge to the best fishing in Southeast Alaska. Founded in 1980, The Waterfall Group destinations are known for their unique accommodations, friendly customer service, expert marine crews, and close proximities to the best sport fishing in Alaska. Welcoming more than 50,000 guests at its resorts, The Waterfall Group boasts an impressive guest return rate that includes multiple generations.
MEDIA CONTACT:
Anna Parry / Sara Geen Hill
Laura Davidson Public Relations
(212) 696-0660
E-mail: anna(at)ldpr(dot)com / sara(at)ldpr(dot)com