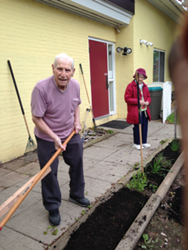 "By eating whole foods, living in a social environment and keeping the mind alive through music, art, gardening and other endeavors, it improves quality of life and even quality of health."
Bristol, Vermont (PRWEB) January 05, 2015
Dee Deluca, executive director and a cofounder of Living Well Residence in Bristol, Vermont, applauded researchers from Scandinavia, who have released a study showing that physical activity, nutritional guidance, cognitive training, socializing and other factors have been found to improve overall cognitive performance in seniors at risk for developing Alzheimer's disease (Published in Alzheimer's & Dementia: The Journal of the Alzheimer's Association, January 18, 2013). The study results reinforce the belief that Living Well has held since opening a decade ago.
"This is something that we, at Living Well, have known and been practicing for 10 years," said DeLuca, who also oversees Ethan Allen Residence in Burlington, Vermont. "By eating whole foods, living in a social environment and keeping the mind alive through music, art, gardening and other endeavors, it improves quality of life and even quality of health. We feel the results of this study validate something that we've been saying—and putting into practice—for a decade."
An estimated 5 million Americans ages 65 and older have Alzheimer's, a progressive, irreversible cognitive disease that affects memory, cognitive skills and functioning. The risk of Alzheimer's increases with age, with the number of sufferers doubling for every five-year interval after 65, according to the National Institute on Aging.
The FINGER Study, which was presented to the attendees of the 2014 Alzheimer's Association International Conference held in Copenhagen, Denmark, is the result of a two-year clinical trial in Finland that revolved around 1,260 adults ages 60 to 77 at risk for cognitive impairment and Alzheimer's. The participants were placed in one of two groups. The intervention group incorporated nutritional guidance, physical exercise, cognitive training, management of heart health risk factors and social activities. The control group was given health advice.
After 24 months, the intervention group performed significantly better on tests of memory, the ability to plan and solve problems, speed of cognitive processing and more.
"This is the first randomized control trial showing that it is possible to prevent cognitive decline using a multi-domain intervention among older at-risk individuals. These results highlight the value of addressing multiple risk factors in improving performance in several cognitive domains," said Miia Kivipelto, M.D., Ph.D., professor at the Karolinska Institutet, Sweden and the National Institute for Health and Welfare, Helsinki, Finland, who reported on the study.
The results of the study quickly filled national and international headlines. But in Bristol and Burlington, it was business as usual. "This is proof positive that we need to continue doing what we've been doing," says DeLuca, whose staff is in the process of conducting its own studies on the efficacy of holistic elder care.
Living Well operates under the leadership of a naturopathic medical director, and works with 52 different local food suppliers to serve farm-to-table meals daily. Residents each consult with their own physicians, but the staff encourages a natural approach, when possible, even if that means something so simple as using an ice or heat pack in place of pain medication. The residences host tai chi and yoga classes and encourage exercise as an alternative to anxiety medication. The residents engage in cognitive stimulation through brain-benders/teasers and mental exercises.
Each residence strives for a natural, family-like setting, with spaces to socialize and build relationships. By creating a sense of community, the residents look out for one another and enjoy passing time together. Both residential care homes are guided by the philosophy of "dynamic governance," also known as "sociocracy." It's a system of organization that originated in The Netherlands, and gives everyone in the community a voice, whether it's the residents who live there, the housekeeping staff who works there or the executives.
DeLuca believes that Living Well's approach will grow in demand in the future, supported not only by the recent study, but because it's the way more and more aging men and women will choose to live. "By 2030, there will be 72 million men and women ages 65 and older in the U.S. That's nearly double the number of 65-year-olds there were in 2000," said DeLuca. "Those men and women are going to want to have a say in their own care. At Living Well, we're ready to listen."
About Living Well
Living Well Residence is non-profit Level III residential care facility with 15 beds based in Bristol, Vermont. For 10 years, the home has served residents in a holistic manner, relying on fresh, local food from area farms, emphasizing the importance of a family-like setting and allowing everyone a voice. Led by a naturopathic medical director, Living Well believes in an integrated health approach that treats a person mentally, physically and emotionally, while also valuing diet and exercise. In 2013, Living Well purchased Ethan Allen, a 30-bed facility in Burlington, Vermont. The home transitioned from a traditional facility to a holistic one, and staff is currently collecting data on the health benefits of art and music therapy, exercise, diet and community in senior living.