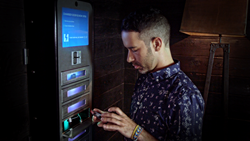 Brightbox greatly enhances the fan experience at Red Bull Arena.
New York, NY (PRWEB) December 22, 2014
Brightbox, Inc. (http://www.brightboxcharge.com), the leading platform provider of networked, safe and secure mobile device charging, is pleased to announce the deployment of the Brightbox Mobile Charging Platform at the Red Bull Arena, home of the New York Red Bulls Major League Soccer Club. The Red Bulls began offering the Brightbox amenity to their fans after the World Cup this summer, starting with their friendly against Arsenal F.C. and continued through the fall during their playoff run.
Placement of the Red Bulls branded Brightbox® Mark3 charging stations throughout the 25,000 seat, state-of-the-art, Red Bull sports arena in Harrison, New Jersey provided soccer fans with a secure charging amenity that allowed them to continue to communicate, navigate, search, shop, share, eat, pay, play and stay engaged in the game, resting assured that their phones were being safely and optimally charged in a station that delivers both physical security and data privacy. Fans were able to remain at their seats enjoying the action or roam the arena freely, without worry and without having to babysit their devices while they were being re charged.
"Ours fans are using their phones more than ever to stay connected. They use their devices to engage with us pre-game at the BULLevard, during the matches for partner promotions, viewing content, and post-game to share their experiences with friends and family," said General Manager, Marc de Grandpre. "Brightbox greatly enhances the fan experience at Red Bull Arena."
The new Brightbox® Mark3 mobile charging platform is the most innovative, safe and secure mobile device charging solution available today. The Red Bulls offer unlimited time charging sessions via the Brightbox amenity for free to their fans. The Brightbox® Mark3 stations are conveniently located on the premium box and club levels as well as on the concourses. Users simply swipe a credit/debit or complimentary card to open an available station chamber, plug in their mobile device, close the chamber and return later to swipe the same card to retrieve their charged phone.
With the Brightbox brand-messaging platform, engagement is the name of the game and a win for sponsors and fans alike. Charged phones keep fans engaged in the game, the club and the arena through their devices. Sponsors can reach fans easily and more directly to better engage with them via the Brightbox and their phones.
Brightbox® Mark3 features a 10" interactive touch screen, customizable swipe cards and a strong brand-messaging platform. The UL and agency certified stations ensure the physical security and data integrity of phones being charged, are PCI compliant with a best-in-class encrypted card reader and meet the highest standards for safety and security. They offer retractable charging cables and larger chambers that can accommodate nearly any mobile device, including the latest phablets, while delivering the safest fast charge possible at optimized manufacturer recommended rates.
"Brightbox congratulates the Red Bulls on their exceptional season and post-season play," said Peter Harrison, Vice President of Sales for Brightbox. "We look forward to teaming up with them and their sponsors for another outstanding season."
About Brightbox
Brightbox® is a New York City based end-to-end technology solutions company providing venues and users with best-in-class mobile device charging services and a robust platform for marketing, sponsorship and consumer engagement. Founded in 2011, Brightbox delivers advanced and innovative charging solutions and has deployed its secure charging lockers in 3 countries and 20 states in a variety of event and vertical markets that include hospitality, entertainment, healthcare, retail, education, transport and beyond.
Enterprise customers include Hilton, Marriott, Hyatt, Sheraton, Caesars, MGM, Heineken, Tampa Bay Rays, New York Red Bulls, International Spy Museum, Windham Mountain Ski Resort, Baystate Health, Orlando Health, Yale New Haven Health, Columbia University and British Airways. Event customers include AOL, AdWeek, American Airlines, Art Basel Miami, BBC Comic Con, CEDIA, Citibank, Discovery Channel, Detroit Grand Prix, Event Tech, IBM, IMEX, Mobile Marketing Association, New York Fashion Week. Learn more at http://www.brightboxcharge.com @brightboxcharge
About New York Red Bulls
For more information visit: http://www.newyorkredbulls.com