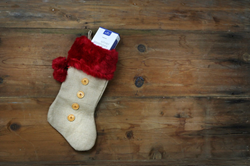 Holiday season can mean cold and flu season so Activz Whole-Food Nutrition suggests gifting the benefits of Activz Silver Lozenges.
Salt Lake City, UT (PRWEB) December 20, 2014
Activz Whole-Food Nutrition is pleased to announce the new Activz Silver line offering natural healing support features Activz Silver Lozenges sized perfectly for stuffing holiday stockings. Silver has been used for over a century to support natural healing, and the nano-particle formula found in Activz Silver products is the most advanced version available. The Activz formula, backed by 18 U.S. patents, has a unique chemical structure that supports the existing healing mechanisms in the human body without disrupting its natural state.†
Activz Silver Lozenges support immune system† function during seasonal changes. Activz Silver Lozenges are made from the combined strength of honey, mint and the proprietary nano-silver solution. Activz honey provides soothing action and silver supports the body's natural healing mechanisms.†

Mint cools affected area, helping you feel energized and refreshed.†
Silver has positive effects even at low potency.†
Contains no artificial colors, flavors, sweeteners or preservatives.
Activz Silver Lozenges come in a beautiful package with 21 lozenges to a box.
Activz Silver products are also offered in liquid supplements, gels and cleansing wipes. Activz Silver uses a proprietary formula that is stable and resonant even at low potency, unlike ionic or colloidal silvers, which require higher concentrations of silver to have positive effects. PPM, or "parts per million," is a ratio that helps determine potency by showing how many units of solute (in this case, silver) are in one million units of solvent (in this case, water). The PPMs in Activz Silver products range from 10 to 30, which thanks to the resonance of the nano-silver particles are PPMs high enough to have positive effects in the body yet also low enough to avoid disrupting the body's natural state.†
†These statements have not been evaluated by the Food and Drug Administration. This product is not intended to diagnose, treat, cure or prevent any disease.
About Activz Whole-Food Nutrition:
Activz is whole-food nutrition, simplified found in over 700 stores nationwide,. Activz is a natural products company devoted to providing "food actives" – the living, bioactive nutrition of whole foods – in the most convenient forms possible, all while retaining 100 percent whole-food integrity. For more information about Activz, visit http://www.activz.com or call 855-782-0447.