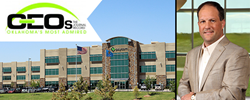 The award would not be possible without the dedication of Paycom's co-workers, who have worked hard for our success.
Oklahoma City, OK (PRWEB) December 19, 2014
Paycom, a leading provider of comprehensive, cloud-based technology for human capital management, today announced that its founder and CEO, Chad Richison, has been named one of Oklahoma's Most Admired CEOs by The Journal Record. The award honors business leaders who demonstrate great leadership and dedication to their companies and communities.
Richison is among influentials to be honored at The Journal Record's sixth-annual Oklahoma's Most Admired CEOs event on Feb. 12, 2015, at the Skirvin Hilton Hotel.
"I am humbled to be recognized alongside some of the community's best and brightest leaders," said Richison. "The award would not be possible without the dedication of Paycom's co-workers, who have worked hard for our success. As we continue to grow and develop even more innovative technology, my appreciation for them deepens."
Prior to founding Paycom in 1998 and taking the company public in 2014, Richison worked in the payroll industry. There, he realized there had to be a more efficient way for businesses to process payroll and communicate with employees. His vision for a simple, efficient solution led him to launch one of the nation's first cloud-based companies. Paycom quickly transformed into an innovative human capital management technology, encompassing everything an employer needs to manage the employee life cycle, from recruitment to retirement.
"We are looking forward to celebrating this year's Most Admired CEOs, a distinguished group of leaders nominated by their associates, peers and friends for modeling great leadership traits and serving as role models for others inside and outside their companies," said Joni Brooks, president and publisher of The Journal Record.
About Paycom
As a leader in payroll and HR technology, Oklahoma City-based Paycom redefines the human capital management industry by allowing companies to effectively navigate a rapidly changing business environment. Its cloud-based software solution is based on a core system of record maintained in a single database for all human capital management functions, providing the functionality that businesses need to manage the complete employment lifecycle, from recruitment to retirement. Paycom serves businesses of all sizes and in every industry. As one of the leading human capital management providers, Paycom serves clients in all 50 states and has sales offices in 30 major cities across the nation.