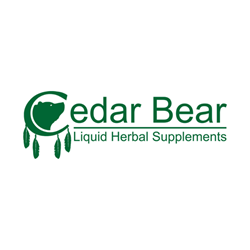 We've seen our formulas evolve since 1983 and are proud to offer them at a very high concentration.
Boca Raton, FL (PRWEB) December 22, 2014
Cedar Bear, manufacturer of liquid herbal and mineral supplements, such as iodine, has announced that it has partnered with Nutritional Products International to expand the availability of its products throughout the American market. The natural health brand uses a totally alcohol-free proprietary process to create unique products through the use of applied chemistry, mineral signatures, and the intrinsic "energetic" qualities of herbs.
"Our process is known for being very concentrated, shelf stable, and tasting very good," said Carl Robinson, company Chairman and CEO. "Unlike many other brands, our products do not contain or use alcohol at any time, which can reduce the effectiveness of the herbs as well as negatively affect the taste."
Robinson, who is a clinical and formulary-herbalist and nutritional therapist with a Master of Herbology in herbal pharmacognosy and pharmacology, has created a wide variety of complex herbal formulas that can address* health issues including stress, mental focus, and immune support. Besides being FDA cGMP compliant, Kosher certified, GMO free, gluten free, soy free, corn free, and vegan, all of the products are designed to be easy to take and are easily absorbed by the body.
"It was important to us that we created products that children or pregnant women can take," said Robinson. "We've seen our formulas evolve since 1983 and are proud to offer them at a very high concentration."
The family owned business, which previously could only be found online and in boutique stores, will now partner with global sales and communication firm, Nutritional Products International. NPI will focus on getting Cedar Bear into more online outlets as well as brick and mortar stores, such as Whole Foods.
"Every day, people across America are looking for new health and wellness products," said Mitch Gould, CEO of Nutritional Products International. "We look forward to taking Cedar Bear through our proven process of online and brick and mortar distribution."
For more information about Cedar Bear, visit: https://cedarbear.com
About Nutritional Products International (NPI): Nutritional Products International provides companies worldwide with distinctive sales and marketing solutions through its Evolution of Distribution system. This enables their products to enter and be successful in the U.S. market. NPI maintains close relationships with key buyers across the U.S, providing foreign brands with a fast track to the world's biggest marketplace. It's all done in a very cost effective and profitable manner. NPI obtains orders for client products from some of the largest distributors and retailers in the United States, increasing sales in the Dietary Health Supplement, Functional Food, Skin Care, and Nutritional Beverage Industries. For more information, visit http://www.nutricompany.com
*These statements have not been evaluated by the Food and Drug Administration. This product is not intended to diagnose, treat, cure or prevent any disease.