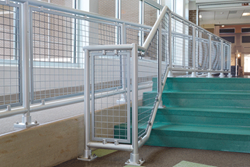 This was the low maintenance, robust solution we were looking for, that will withstand the rigors of a school environment.
Cincinnati, Ohio (PRWEB) December 19, 2014
Maple Dale Elementary School of Cincinnati, Ohio, contracted the architectural work for several new buildings on its campus to CR Architecture + Design, an award winning firm with locations in Cincinnati, Dallas, Denver and Seattle. When it came time to choose handrail systems for the new construction, CR turned to another Cincinnati based company, Hollaender® Manufacturing.
According to Christie Boron, Client Leader-Education at CR Architects, "We needed a handrail system that provided the aesthetic form we were looking, as well as one that would substantially reduce the maintenance cost involved with repainting the typical welded, painted steel systems the school had used in the past." A painted finish typically requires frequent touchups and a complete recoating at least every 5 years.
The Hollaender Interna-Rail® railing system that was ultimately installed consists of a clear anodized aluminum frame, along with e-coated/powder coated steel wire mesh infill panels. "Key to the decision was Hollaender's ability to place a clear anodized finish on the railing frame components and a powder coated finish on the mesh infill. This was the low maintenance, robust solution we were looking for, that will withstand the rigors of a school environment," said Ms. Boron.
Hollaender's® Interna-Rail® handrail system is an in-line fitting based system designed to combine the clean look of welded rail with all the benefits of a mechanical system. Interna-Rail® systems can be designed to meet any building code and are being used throughout the world in architectural, public works, and stadium applications.
About Hollaender Manufacturing
Hollaender is a manufacturer and marketer of aluminum structural pipe fittings, aluminum pipe, and infill panels, as well as final assemblies that use these components. These components are used in the design and build of handrail, guardrail and safety rail systems as well as a wide variety of unique modular pipe and fitting based structures for commercial, residential, public works and industrial applications, as well for retail store fixtures and other structural applications. These components and systems are marketed under the trademarked brands Speed-Rail® and Interna-Rail®. Hollaender also offers consultation, design, and project management services.