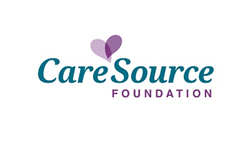 Dayton, Ohio (PRWEB) December 22, 2014
The CareSource Foundation recently awarded its fourth round of quarterly grants for 2014. The Foundation provides grants to nonprofit organizations in health and human services domains with a focus on children's health, issues of senior adults, community health, special needs populations and strategies to address the medically uninsured throughout the state of Ohio.
CareSource is a leader in cultivating partnerships that enhance and improve the health care and life services for consumers. The grants announced this quarter have been selected through a rigorous review process that evaluates innovation, impact and sustainability.
In November, CareSource was recognized by the Dayton Chapter of the Association of Fundraising Professionals as an "Outstanding Large Corporation" for the CareSource Foundation's commitment to providing funds to nonprofits that share the Foundation's mission. The funding supports innovative solutions to address the health care needs of the underserved.
"The CareSource Foundation has invested $10 million in more than 800 statewide grants given to 453 organizations since 2006. In the company's 25th anniversary year we are excited to have the opportunity to invest in the communities we serve in a way that aligns with our mission to make a difference in our members' lives," said Cathy Ponitz, Executive Director of the CareSource Foundation.
CareSource 4th Quarter Foundation Grants Highlights:

Greater Cincinnati Behavioral Health Services (Cincinnati) is the most comprehensive mental health provider in south-west Ohio and serves adults with mental illness. In 2015, they are projected to provide services to more than 8,000 individuals. The CareSource grant of $15,000 will support the increasing demand for services including transitional youth services, the mental health court program, and resident housing services.
Mom's House (Toledo) provides education support, day care, housing, and parenting services to single parents. The organization works to break the cycle of poverty by helping young, single moms graduate from high school, technical school and college. The CareSource grant of $10,000 will provide operating support for the organization
Shoes 4 the Shoeless (Dayton) was founded in 2010 to help the 40.9 percent of Montgomery County children living in poverty. The nonprofit provides new gym shoes and socks to Dayton area children in need. The CareSource Grant of $12,000 will provide shoes for 800 children in south-west Ohio.
Funding by City
Dayton / Xenia, Ohio - $38,100
Advocates for Basic Legal Equality, Inc.
Hospice of Dayton, Inc.
Interfaith Hospitality Network of Greene County
Life Resource Centre
Parity, Inc.
Shoes 4 the Shoeless
Cincinnati / Hamilton Ohio - $37,500
CincySmiles Foundation
Greater Cincinnati Behavioral Health Services
Santa Maria Community Services
PARACHUTE: Special Advocates for Children of Butler County
Columbus, Ohio - $24,000
Court Appointed Special Advocates of Franklin County
Mental Health America of Franklin County, Inc.
Mercy and Grace on Wheels, Inc.
Victory Ministries, Inc.
South Charleston / Springfield - $25,000
Second Harvest Food Bank of Clark, Champaign and Logan counties
Welcome Springfield
Cleveland / Akron / Canton / Elyria / Westlake, Ohio - $37,500
Catholic Charities Community Services/Summit County
Elyria YWCA
Far West Center
Prescription Assistance Network of Cleveland, Inc.
Ronald McDonald House of Cleveland, Inc.
Painesville / Seville / Chardon / Stow - $28,500
Lake County Free Clinic
SHC/The Arc of Medina County
WomenSafe, Inc.
Zane's Foundation
Delaware / Troy / Lima / Toledo, Ohio - $ 25,500
Crime Victim Services, Inc.
Family Promise-Delaware County
Partners in Hope, Inc.
Mom's House of Toledo
About CareSource
CareSource, a nonprofit health plan is celebrating 25 years as one of the nation's largest Managed Medicaid Plans. Headquartered in Dayton, CareSource serves more than 1.3 million consumers in Ohio and Kentucky. CareSource is living its mission to make a difference in our members' lives by improving their health and well-being. CareSource understands the challenges consumers face navigating the health system and works to put health care in reach for those it serves. For more information about the CareSource Foundation, visit http://www.caresourcefoundation.com.