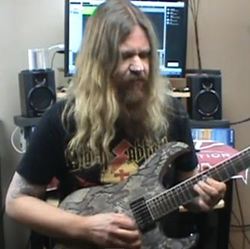 (PRWEB) December 19, 2014
Darrin Goodman teaches this easy legato lick from the song Loud and Clear by virtuoso guitarist Paul Gilbert's band Racer X. The lick is a sequence based on three strings and combines the techniques of hammer-on's and pull-off's and played in the open position in the key of F#m (F sharp minor). Darrin demonstrates the lick as follows; 2nd fret of the 5th string with first finger and then a pull-off to the open string to the 4th fret of the 6th string with 3rd finger to the open 5th string. Next is pull-off's from the 4th to the 2nd frets of the 5th string with 3rd and first fingers and then a pull-off to the open 5th string to the open 4th string and then finally repeat the pull-off sequence again on the 5th string. Goodman continues by repeating the same sequence based on the 5th, 4th and 3rd strings and then finally ending on the 5th fret of the 4th string and then repeating the entire sequence again and ending on the 6th fret of the 3rd string. Guitar TAB's are available for this easy lead guitar lesson at GuitarControl.com.
Paul Gilbert is a virtuoso guitarist from Carbondale Illinois best known for being a member of Racer X and Mr. Big and has also released numerous solo albums and guest appearances on other albums.
Darrin Goodman
Darrin Goodman, a native of Ogden Utah, began playing guitar at the age of 12 after hearing KISS at an earlier age. Darrin has been a local finalist for the King of the Blues contest and is the lead guitarist of international recording artist Sonic Prophecy who has performed with artists such as Accept, Sabaton Cinderella and Ratt. Darrin has been teaching private lessons to 30 to 60 students a week from his home studio since 1987.
About GuitarControl.com
GuitarControl.com is the leader in modern guitar instruction. It's packed with recourses including articles, video lessons, and the best videos in the business for the beginner to the advanced guitar student taught by the best instructors out there. Weather you are into the blues, rock, jazz, metal, folk, or anything in between, they have you covered.