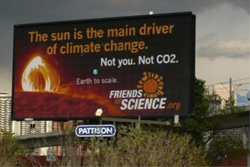 The Sun is the main driver of climate change. Not you. Not CO2.
Calgary, Alberta (PRWEB) December 19, 2014
The British Geological Society issued a [geomagnetic disturbance alert Dec. 19, 2014 regarding two incoming impacts from Coronal Mass Ejections (CME) on the sun just in time to provide real life embellishment of the Friends of Science video billboard message in downtown Montreal, Quebec that features animated earth and sun interplay with the message "The Sun is the main driver of climate change. Not you. Not CO2" in French.
CMEs often lead to spectacular auroras, typically in the northern hemisphere, and if powerful enough can black-out power grids or sensitive radio communications as discussed in this May 13, 2013 report on [Space.com
Friends of Science say the warming rays of the sun that are dramatically revealed in their video clip are exactly what human-kind have longed for at every "shortest day and longest night" of the year at the solstice.
The sun's role in human culture is extensively explored in Richard Cohen's book "Chasing the Sun" reviewed in this Oct. 22, 2010 report in [The Telegraph.
Even the Vatican operates one of the world's oldest observatories.
The iTrix video billboard is a one-of-a-kind advertising venue in Montreal which portrays 15 second silent video clips in one of the most high traffic areas of this cosmopolitan city. In Montreal, Friends of Science have recently run other digital billboards featuring the earth in scale to the sun and a dramatic CME, to great consternation of the population – pro and con – as reported Nov. 26, 2014 in Le Devoir, which referred to the Friends as the 'Enemies of Science.'
The iTrix video billboard location on St. Catherine Street in Montreal is renowned for its pubs and restaurants, and just a month ago the annual Santa Claus Parade welcomed some 300,000 revelers.
The Dec. 21st winter solstice has been integrated into various religious festivals, but to this day the mythical power of the sun draws people to timeless centers of anthropogenic worship of the sun, like that of Stonehenge, as reported by The Guardian Dec. 21, 2013.
Friends of Science wishes everyone a safe and happy holiday season.
About
Friends of Science has spent a decade reviewing a broad spectrum of literature on climate change and have concluded the sun is the main driver of climate change, not carbon dioxide (CO2). The core group of the Friends of Science is made up of a growing group of Earth, atmospheric, astrophysical scientists and engineers who volunteer their time and resources to educate the public.
Friends of Science Society
P.O. Box 23167, Mission P.O.
Calgary, Alberta
Canada T2S 3B1
Toll-free Telephone: 1-888-789-9597
Web: friendsofscience.org
E-mail: contact(at)friendsofscience(dot)org