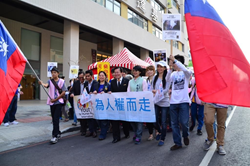 Human Rights 365—every day is Human Rights Day.
Kaohsiung, Taiwan (PRWEB) December 19, 2014
Kaohsiung Scientologists celebrated Human Rights Day 2014 with a Human Rights Walk and Open House December 6 at the Ideal Church of Scientology in Kaohsiung.
Human Rights Day is the anniversary of the United Nations adoption of the Universal Declaration of Human Rights (UDHR), the world's premier human rights document.
The UN's theme this year is Human Rights 365—every day is Human Rights Day, and Scientologists of Taiwan exemplify this motto: Throughout the year they conduct human rights education in elementary, middle and high schools across the nation and promote the UDHR through street events and petition drives.
Their Human Rights Day festivities began with a traditional Lion Dance performed by students of the Kaohsiung Ke-Liao Elementary School.
Then, hundreds of volunteers walked through the center of the city, led by Church Executive Director Oliver Hsueh and Youth for Human Rights Taiwan Chairman Simone Hsu. They carried a large banner promoting human rights and placards bearing brief descriptions of each the 30 articles of the UDHR.
The walk ended at the Church where there were refreshments, information stands set up by groups that participated in the walk, and human rights themed games for the children.
The entire Public Information Center of the Church was transformed into a human rights exhibition, with The Story of Human Rights documentary and short videos playing that depict each of the articles of the Universal Declaration of Human Rights.
The Church of Scientology supports United for Human Rights (UHR) and its program for young people, Youth for Human Rights. United for Human Rights has provided educational materials in 17 languages including Chinese to more than 150 nations. Some 21,000 schools have used its human rights materials.
To make United for Human Rights and the other humanitarian and social betterment initiatives it supports even more broadly available, the Church of Scientology has published a new brochure, Voice for Humanity—Real Help, Real Results.
Inspired by the words of L. Ron Hubbard, Founder of the Scientology religion, that "a being is only as valuable as he can serve others," Scientologists wholeheartedly support these programs. Participation and collaboration in these initiatives is invited and welcomed from all who seek to improve conditions for themselves and others.
For more information, visit the Scientology website at http://www.Scientology.org/how-we-help/voice-for-humanity.