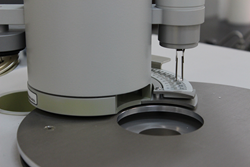 The future of Reynolds Polymer Technology will greatly benefit from our investment in this new technological resource,
Grand Junction, Colorado (PRWEB) December 22, 2014
Reynolds Polymer Technology, creator of R-Cast® acrylic and the Signature Bond™, has recently added a cutting-edge research and development laboratory onto their US facility. Three specialty diagnostic instruments will now allow technicians to gain valuable knowledge about polymer properties and accurately predict material reactions. Constant testing during the manufacturing process will now ensure improved quality standards and open the door for new materials and properties.
In its US manufacturing plant, RPT has already realized an increase in the amount of monolithic acrylic that is being produced, both as a result of the recent expansion and in response to industry demand. Because RPT is committed to providing customers with superior quality R-Cast® acrylic, every piece of product is tested using the Differential Scanning Calorimeter (DSC) and Dynamic Mechanical Analyzer (DMA), allowing laboratory technicians to constantly evaluate polymer grade. Test results will be used to assist in autoclave success and improve material performance during the polymerization and thermoforming process. This objective information will also serve as a supplementary layer of quality control.
Preliminary research to further improve the production process has also begun. The Dielectric Analyzer runs tests to monitor autoclave efficiency. Lab technicians are confident in designing a new system that will increase efficiency and decrease production time. In an effort to stay "way beyond ordinary," other projects will include experimenting with next generation resins and chemical redesigns to develop new, more robust polymer properties.
"The future of Reynolds Polymer Technology will greatly benefit from our investment in this new technological resource," commented Mark Johnson, Vice President of Business Development. "With the amount of large projects on our plate, it will be monumental to develop faster production processes while maintaining optimal quality standards."