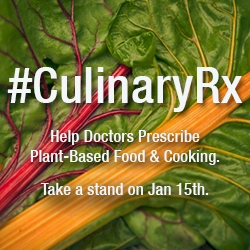 There is a better way when we take a food first approach, which is exactly what our Culinary Rx will provide: food first, medication second.
Anaheim, CA (PRWEB) December 19, 2014
The Plantrician Project, a 501c3 not-for-profit corporation dedicated to developing educational events, tools and resources for healthcare professionals and their patients, and Rouxbe Cooking School, the world's leading online cooking school, have joined forces to develop the prescription every human being needs: Culinary Rx. As an online food and nutrition literacy and plant-based cooking course, Culinary Rx, scheduled for debut spring 2015, will be designed to help individuals transition from the Western industrialized diet to a health-promoting, whole food, plant-based dietary lifestyle. The Plantrician Project will be conducting, analyzing and presenting research findings around the use of the course that correlates patient educational cooking outcomes with their resulting health outcomes.
"Americans consume more medications than the rest of the world combined, with last year's Mayo Clinic study indicating that 70 percent of us are taking prescription pharmaceuticals," said Scott Stoll, MD, Plantrician Project chief medical officer. "We firmly believe the prescription all clinicians should be prescribing is the Culinary Rx, enabling us to get back to the foundation of using food as medicine."
Culinary Rx will provide healthcare professionals with a scalable tool that can be used to educate, equip and empower their patients and clients through the transition to a healthier, whole food, plant-based way of living. Taught by leading chef educators and medical professionals, the course will deliver detailed video cooking instruction and nutrition fundamentals to home cooks and patients that want to change their health through food choices and cooking.
"This partnership allows Rouxbe to connect with the health and wellness communities in an unprecedented and powerful way. We set out to build a lifestyle and culinary instruction tool that will change people's lives through cooking. The Plantrician Project helps us get there with a strong professional network and attention to evidence-based research. A new food and cooking solution for health is on the way, and it's going to be delicious," said Joe Girard, co-founder and CEO of Rouxbe.
The CDC's 2014 report on Chronic Disease and Health Promotion states that about half of all adults have one or more chronic health conditions, with heart disease leading the way, and cancer close behind. The vast majority of healthcare dollars, now totaling more than 18% of the nation's GDP, are spent on the treatment of conditions that are tied directly to poor lifestyle choices, with poor dietary habits leading the way.
"Our current system is rewarding the management of disease, while not rewarding prevention and prescriptions for dietary change," emphasized Stoll. "This has to change, because the current model is unsustainable—there is a better way when we take a food first approach, which is exactly what our Culinary Rx will provide: food first, medication second."
ABOUT CULINARY Rx:
Culinary Rx, an online whole food, plant-based culinary-focused course, is the product of a unique collaboration between Rouxbe Online Cooking School and The Plantrician Project. It is a 30 to 60-day transitional dietary lifestyle resource, or pathway, targeted at patients that have a need or desire to move away from the Standard American Diet to a more health-promoting, whole food, plant-based lifestyle but don't know how to navigate the road map to lasting change. It's NOT a recipe site, app, cookbook or food blog, Culinary Rx is a food and cooking skills-development and plant-based focused dietary lifestyle tool. Powered by the world's leading online cooking school, the course teaches patients about food as medicine and how to execute recipes successfully by learning basic foundational cooking techniques. Why? Because we're now bearing the burden of our unhealthly food choices, with alarming chronic disease trends and many other unsustainable consequences of our decades of consuming the Western industrialized diet.
ABOUT THE PLANTRICIAN PROJECT:
It's a movement! As a 501c3 approved not-for-profit organization, The Plantrician Project produces the International Plant-based Nutrition Healthcare Conference. This CME accredited event is just one medical education program of a multi-faceted initiative dedicated to educating, equipping and empowering medical practitioners and their patients and clients with the educational tools and resources needed to inspire their shift from the Western industrialized diet to a life-changing, plant-based way of living. This is essential to our ability as a society to usher in both sustainable human health and a sustainable healthcare system. The Plantrician Project transcends the food=health vs. food=disease equation in that it also connects the dots between our food choices and their impact on many of the global sustainability issues we face—including our ability to feed the world's burgeoning population. Visit The PlantricianProject.org and FoodMath101.org for details.
ABOUT ROUXBE COOKING SCHOOL:
Rouxbe is the world's leading online cooking school. We deliver foundational cooking technique instruction and wellness training to over 150,000 home cooks, culinary students, professional cooks and healthcare professionals in over 180 countries.