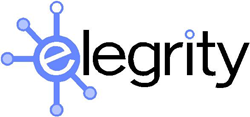 Barry's extensive strategic leadership experience and knowledge of law firms will make him a valuable member of our team.
San Francisco, CA (PRWEB) January 20, 2015
Elegrity is proud to announce that it has added Barry Strauss to the Executive Team as the Chief Operating Officer.
"We have known Barry for many years. He was a client while he served as Executive Director of a prominent DC-based law firm, and then became a friend. We now are excited to welcome him as a colleague. Barry's focus is on developing and implementing systems, processes, and personnel to accommodate the growth objectives of Elegrity. His extensive strategic leadership experience and knowledge of law firms will make him a valuable member of our team," states Joy E. Spicer, Elegrity's President and CEO.
Elegrity is the innovation leader in providing software and solutions for the business of running a law firm. Elegrity's top selling products target Conflicts, Corporate Intelligence, Experience Management and Process Management.
"I am extremely pleased to have this opportunity to become part of the Elegrity team. I am looking forward to utilizing my skills to work with this collaborative group to help map the future of this organization. Having gotten to know the people and products from the client side, I know the quality, integrity and commitment that Elegrity offers. It is exciting for me to be able to bring my expertise to this dynamic, innovative and rapidly growing company. We are poised for great success and I feel that my skills can help achieve our vision," indicates Barry.
"Barry will immediately be responsible for directing all operational aspects of Elegrity and assisting me in expanding the company. We are looking forward to how he will help us to continue to grow while maintaining our high standards of client service and care," concludes Ms. Spicer.
About Elegrity, Inc.
Elegrity is the manufacturer of Law Business Management System® (LBMS®), the only Law Firm Business Process Management and Law Firm Big Data platform built specifically to implement Cradle-to-Grave® management of law firm clients, matters and employees. For more information, visit http://www.elegrity.com and the Elegrity Law Firm Thought Leadership Blog at http://www.elegrity.com/law-firm-blog/
Legal Notices
Copyright © 2014-2015 Elegrity, Inc. All Rights Reserved. 160 Pine Street, Suite 720, San Francisco, CA. All trademarks, trade names, service marks, and logos referenced herein belong to their respective companies.