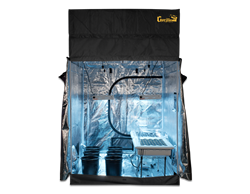 The 2x4 and 5x5 SuperClone Rooms are the perfect addition to any standard indoor grow room setup
Santa Rosa, CA (PRWEB) December 19, 2014
SuperCloset raises the bar once again, with the 2x4 and 5x5 SuperClone Rooms. SuperCloset continues to offer indoor growers the most efficient and effective indoor hydroponic grow solutions. Pair one of the new SuperClone Rooms with the award winning SuperRooms for a truly professional, perpetual, and turnkey indoor hydroponic grow room setup.
The SuperClone Room features the most effective cloner in the world, SuperCloset's SuperPonic SuperCloner 50. The SuperClone Room pairs this world class cloner with the best grow tent in the industry, Gorilla Grow Tent. This grow package is lit by a pair of Sun Blaze T-5 fixtures and hung from adjustable heavy duty light hangers. Additionally, the SuperClone Room is fitted with a Phresh carbon filter, fans, safety features, cloning stands, soil pots for mothering plants, and everything else you need to successfully get your crop started. SuperCloset has made cloning super easy with the addition of the SuperClone Room to its portfolio of super products. Clone with ease the very first, and every time, with the SuperCloneRoom from SuperCloset. Available in both 2'x4' & 5'x5' Setups.
About SuperCloset:
SuperCloset products are perfect for the novice hobbyist through master grower as every imaginable high quality component comes with the grow boxes and hydroponics systems. Because of the excellent layout design and support material included with each system, most SuperCloset customers are up and growing within 90 minutes of receiving their product. SuperCloset takes the guesswork out of growing so their customers can focus on the fun and not the fabrication of indoor gardening systems.