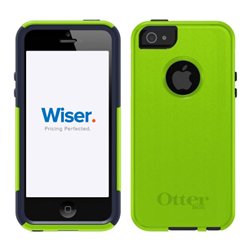 We look forward to leading the effort to uphold its top position in the growing smartphone accessory market.
San Francisco, CA (PRWEB) December 22, 2014
Retail price intelligence leader Wiser announced today that it has been selected to monitor pricing across the Otter Products LLC retailer network. Wiser's product-monitoring solution, WiseMapper, will assist Otter Products in maintaining the reputation of its products by monitoring online retailer compliance with its Minimum Advertised Price (MAP) policy.
Otter Products is a global leader in protective solutions for handheld technology.
WiseMapper will provide Otter Products with the ability to monitor its prices across its online channels. MAP monitoring is key for manufacturers because brand reputation is partially shaped by advertised pricing. With WiseMapper, Otter Products has the ability to identify retailers that are offering its products below MAP.
The smartphone accessory industry has become highly competitive, with thousands of retailers distributing phone cases around the world. WiseMapper's ease of use and innovative technology were key factors that played in Otter Products' decision to adopt Wiser as its advertised-price-monitoring solution across online channels.
"Otter Products has an incredible brand reputation, and we look forward to leading the effort to uphold its top position in the growing smartphone accessory market" said Arie Shpanya, CEO of Wiser. "Wiser believes that retailers must be accountable for their advertised pricing. We look forward to sharing our technology with Otter Products and building upon this business relationship."
About Wiser
Wiser provides a complete suite of solutions to give retailers, brands, and manufacturers the edge to stay both competitive and most importantly, profitable.
Wiser's flagship product is WisePricer, a full-featured dynamic pricing and merchandising engine that monitors, analyzes and reprices retail products in real-time. WisePricer enables retailers to boost profit margins and revenue, price with confidence, and improve merchandising through powering the development of a sound pricing strategy.
Wiser also offers a MAP monitoring solution, WiseMapper, for brands and manufacturers to monitor and protect their pricing across the thousands of retailers selling their products.
For more information on Wiser, please visit wiser.com