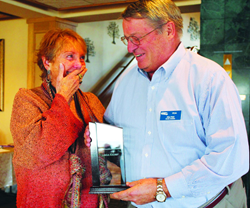 Volunteerism Shines at The 2014 Happiest Community of the Year
Knoxville, Tennessee (PRWEB) December 20, 2014
Residents living in one of the best waterfront retirement communities in Tennessee put a lot of thought and effort into giving as volunteers. To kick off the holiday season, the participating Villagers of Tellico Village received recognition for their volunteer initiatives with a celebration and awards ceremony. The caring and sharing mentality goes a long way in the community near The Smokies.
On November 19, 2014, the residents gathered around at the Property Owners Association's President's and Honors Awards Ceremony. Twenty-four nominees held their heads high as their community thanked them for their dedicated initiatives in five categories. These volunteers were recognized for volunteering in social, recreational, environmental, management and service-related programs in Monroe and Loudon counties. The winners are:
Community Service Award
Hugh and Jody Brashear
Andrew Ewing
Mike Kitchens
Fred Quance
Bill Waldrop
T-BART
Distinguished Service Award
Sharon Addison, Karen Brown, Claire Moxim, and Lynne Pecze
Joe Bogardus
Citizen Observer Patrol (COP)
Dan Dyer and Jim Marotta (Mr. Marotta received his award earlier before he passed away)
Educational Service Award
Deborah Mayberry
Outstanding Individual Award
Chuck Hitch
Dick Kolasheski
Sam McQueeney (Ms. McQueeney received four nominations – a new record)
Joe Solymossy
POA President Alan Hart presented the prestigious President's Award for exemplary service to the community to:
Sharon Addison
AWE Hospitality – Andy Fox and the Yacht Club team
Linda Kaump
Don Miller
Bill Waldrop
When living in the Knoxville suburbs, many Villagers chose to lend a helping hand to their surrounding communities and to make a positive impact for years to come. This ceremony and the efforts of these volunteers show how caring Tellico Village can be for retirees interested in relocating to Tennessee.
Volunteer programs and organizations are an active part of Tellico Village. In fact, more than 400 volunteers! This friendly community located near The Smokies seamlessly enjoys incorporating their social activities with volunteer initiatives. Folks interested in relocating to Tennessee won't want to miss meeting the 2014 Happiest Community of the Year during the holidays to see what they're up to next. Just recently, The Tellico Village Woodworkers Club participated in the Toys-For-Tots Program. This annual event occurs every December, and the members of this social club at Tellico Village get to show off their talents and make children happy at the same time.
These gifted volunteers built and donated more than 7,650 wooden toys from 2008 to 2014! The woodworkers create wooden horses, trucks, helicopters and more and then present them to Loudon County Sheriff. Both the woodworkers and Loudon County Sheriff coordinate the program, and help bring joy to the children living in the Knoxville suburbs. This club along with the 60 other social clubs bring happiness and cheer outside their private gates every season – It's no wonder why this community won Real Estate Scorecard's 2014 Bliss Award for Happiness Community of the Year!
While it is truly amazing, Tellico Village is known for more than its volunteer programs and convenient location near The Smokies. Tellico Village is earning a reputation as one of the best waterfront retirement communities in Tennessee, because of its high quality amenities. The community is nestled on 5,000 acres of beautiful terrain next to the 16,000-acre Tellico Lake. Eight neighborhoods and 7,000 residents can be found within this private lake paradise. It's active and social atmosphere brings out the best in these Villagers, and they welcome anyone interested in relocating to Tennessee to learn about their a-la-carte lifestyle amenities such as:
Three 18-Hole Championship Golf Courses
26,000 Sq. Ft. Wellness Center with Indoor Swimming Pools
Elegant Lakefront Yacht Clubhouse
10 Tennis Courts
8 Pickleball Courts
Full Service Marina with Boat Slips
Variety of Community Parks
Brand New Library
Living in the Knoxville suburbs keeps getting better all the time at Tellico Village. From volunteering to hiking through the nature trails, swimming in the resort-style pools to playing golf in one of the championship course, Tellico Village has something for every Baby Boomer. Real Estate Scorecard congratulates and honors The Villagers listed above who have gone above and beyond in the community!
To learn more about Tellico Village, call them direct at 888.287.0676 to schedule a tour. Be sure to take advantage of their Discovery Package to experience the lifestyle up close and enjoy the Tellico Village amenities.
About Real Estate Scorecard:
Real Estate Scorecard writes unbiased real estate reviews providing in-depth information about popular gated communities in Florida, Georgia, North Carolina, South Carolina and Tennessee, all in an effort to help people discover where to retire in the Southeast.
Website: http://realestatescorecard.com